AtomicVPS Offers Free Open Beta Period with New Cloud Hosting Solution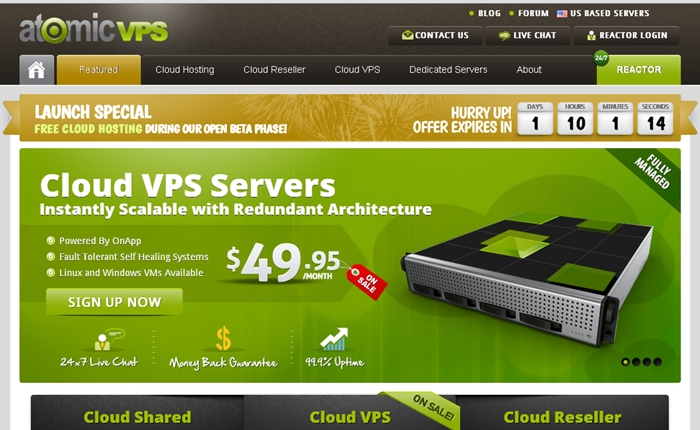 AtomicVPS is giving customers a Free Open Beta period in connection with the launch of its premium Cloud Hosting solution. The UK-based company will also be unveiling its new website and brand.

Their cloud will contain Enterprise-Class hardware along with being powered by OnApp. The package will reportedly be "scalable, fault tolerant and self-healing" and aim to cater for individual web sites, resellers, and Virtual Private Servers.

The free Open Beta period will be open to all who use the promotional code 'LAUNCH' for a 100% discount on any of the Cloud Hosting and Cloud Reseller Hosting packages.

Customers can also opt for a 25% discount before the end of the Open Beta period, for the life of their account by using the code '25OFF'.

Founder and CEO of AtomicVPS, Laurence Flynn, spoke of AtomicVPS' surge into the cloud hosting market. "AtomicVPS is built on the foundation of 10 years of experience managing and developing HostNexus," he said.

We've been looking to break into the cloud hosting market for some time. With our fully managed Cloud Server solutions, we believe we can distinguish ourselves from other cloud hosts and carve AtomicVPS a niche in this emerging hosting market."

The company which also has hardware based in New Jersey is offering a money back guarantee in order to show they are fully committed to their customer's needs, a service which they describe as "unparalleled in the hosting industry."

About AtomicVPS.com

AtomicVPS, Ltd. is a privately owned, privately funded, debt free UK based company with hardware based in New Jersey, US. While the company is relatively young, the experience behind it most certainly is not. The company was founded by the CEO of HostNexus, a web hosting company that has been providing Linux and Windows hosting solutions for over a decade and the same veteran server administrators that work behind the scenes on HostNexus's 100+ servers also provide support to the AtomicVPS Cloud.


Comment News
| | | | | | |
| --- | --- | --- | --- | --- | --- |
| Connect with | | or | | or | |