BackupAgent and Exabytes Unite to Offer Cloud Backup Services in Asia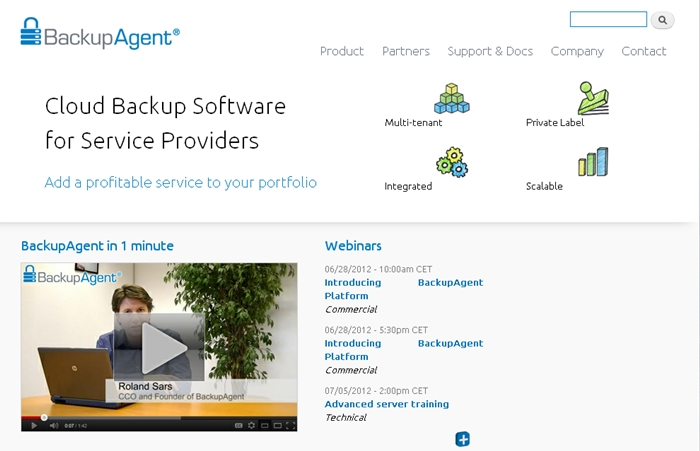 Cloud Backup Software provider BackupAgent has announced a partnership with Malaysian web hosting company Exabytes.

The coalition was struck in order to distribute cloud backup services of PC's, laptops and servers throughout Asia.

The services will be made available to home users along with SMB companies, with their data being stored in Exabytes' datacenters in Malaysia.

Roland Sars, CCO of BackupAgent explained the decision of entering a partnership with the Asian web hosting company; "Exabytes operates in most Asian countries and is the largest hosting company in its home market; Malaysia," he said.

"The high quality service and impressive growth figures of Exabytes match how we want our product to be represented in the Asian market."

Service providers will be able to benefit from this alliance through offering their customers with automated cloud backup including features such as backup of Microsoft Outlook, IE Favorites and Windows System state.

Exabytes, which offers Linux and Windows servers, stated their main principal is to provide the best webhosting solutions to their customers.

CEO Chan Kee Siak, supported this by stating "Exabytes strives to give the best service to its clients and we are delighted to release cloud backup in the Asian region."

He continued; "BackupAgent's technology is best-of-breed: very feature-rich and extremely user-friendly. The company provides hands-on support, both technical and commercial and is dedicated to build the cloud backup business in Asia together, as a true partnership."

About BackupAgent

BackupAgent was founded in 2005 and is privately held company with headquarters in Delft, The Netherlands. BackupAgent's cloud backup technology is used by over 400 service providers, hosting companies and telcos in over 50 countries worldwide. BackupAgent was ranked 8th on the Deloitte Fast 50 in 2010, the list of fastest growing technology companies. The company's growth is guaranteed by developing a unique innovative solution and a successful partner model.

About Exabytes

Malaysia-based Exabytes offers a variety of Linux and Windows servers including dedicated servers, semi-dedicated servers, VPS and VPS Forex with a variety of CUP, RAM, storage and bandwidth options than can be managed or unmanaged. Their services include a variety of Web and email hosting and security plans for every size business. Ranked number one in Malaysia since 2005, the 10-year-old company serves more than 50.000 clients in 121 countries and manages over 600 servers with 60,000 registered domains.
Comment News
| | | | | | |
| --- | --- | --- | --- | --- | --- |
| Connect with | | or | | or | |