Brilig Deploys GoGrid's Hybrid Cloud Infrastructure for its Big Data Architecture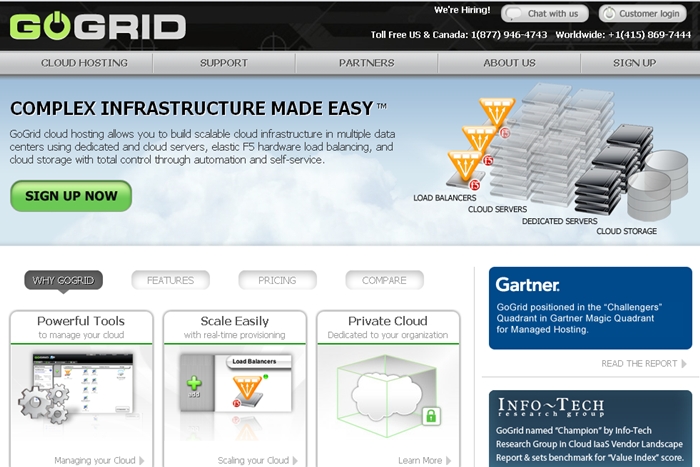 Online Display Advertising's First Cooperative Data Marketplace Boosts Big Data Performance with a Hybrid Approach

GoGrid has announced its partnership with Brilig, who have deployed the IaaS provider's hybrid infrastructure in the cloud for its Big Data architecture. Since striking the deal, Brilig has reportedly increased the performance of its Big Data solution while reducing costs at the same time.

Brilig provide a cooperative data marketplace for online display advertising, the first of its kind, and according to their Chief Technology officer Mark Kemna, cost and performance were the key attributes they desired when selecting an infrastructure partner.

"GoGrid's dedicated hardware runs Big Data solutions efficiently, so the costs are as much as 50 percent lower.
"You also get a security advantage when using dedicated hardware to store data. But the biggest plus is performance. We get significantly better performance with GoGrid."

GoGrid's hybrid cloud hosting provides users with the option of deploying virtual and dedicated servers combined, rather than the separate forms they generally come in. Through this, Brilig can benefit from the immediacy of on-demand horizontal scaling along with having dedicated machines performing specific roles in the architecture of their Big Data processes.

CEO Paul Cimino, commented on the processes, stating that they are the core of the company's services "Brilig wouldn't exist without the distributed data architectures associated with Big Data," he said.

"Big Data represents a profound change in the usefulness of the huge amounts of data we generate. The cloud is just as important. By running our solution using GoGrid's hybrid cloud infrastructure, we're able to process more than 300 million requests per day without tying up our capital in database or server hardware."

To learn more, read the full case study on the high-performance cloud infrastructure GoGrid provides for Brilig's Big Data solution: http://go.gogrid.com/case-study/brilig

About GoGrid

GoGrid is the #1 pure-play Infrastructure-as-a-Service (IaaS) provider specializing in Public Cloud and Private Cloud Infrastructure solutions. Currently powering thousands of customers globally, GoGrid makes complex infrastructure easy by enabling businesses to revolutionize their IT environments with the cloud. In just minutes, GoGrid customers can deploy and begin managing applications and workloads on our proven, secure and reliable public cloud platform. With GoGrid's Public Cloud and Private Cloud offerings, sysadmins, developers, and IT professionals create, deploy, and control cloud environments and complex virtual and physical server networks with full administrative control; with GoGrid's Private Cloud customers utilize a private, hosted and managed server, single-tenant environment with zero capital expenditure. To further leverage the GoGrid cloud, the Partner Exchange provides users with an evolving ecosystem of cloud solutions from GoGrid's partner community. GoGrid is proud to have been recognized as a "Visionary" two years in a row by Gartner and as a "Champion" by Info-Tech Research Group in 2011.

Comment News
| | | | | | |
| --- | --- | --- | --- | --- | --- |
| Connect with | | or | | or | |