Chinese Company Tencent Changes the Landscape by Offering Free 10TB Cloud Storage Accounts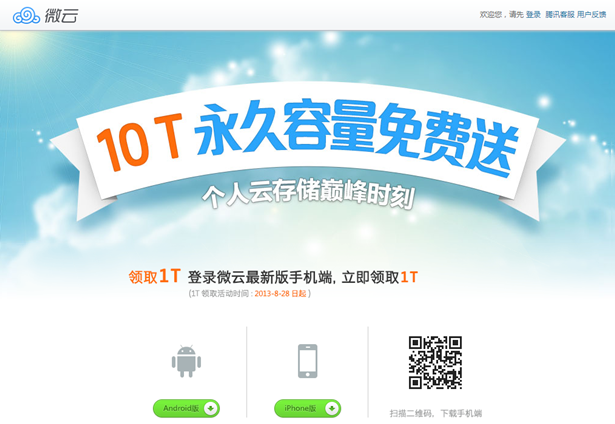 Chinese company Tencent has just changed the cloud storage landscape. In an arena where the leading players such as SkyDrive, Dropbox, and Google Drive offer 7, 2, and 15 gigabytes of free storage respectively, Tencent has come in with an option that offers a whopping 10 terabytes.

Although on first inspection Tencent's offer is overwhelmingly generous, there are some caveats, especially how the space is allocated. Tencent's cloud storage website is Chinese only, making signing up for accounts pretty difficult unless you are a Chinese speaker. In addition, you do not receive 10 terabytes of disk space in one sitting. Users receive an initial 500 gigabytes and once that is fully utilized they receive an automatic increase of 1.5 terabytes, meaning an account holds 2 terabytes of data. Once another 1.5 terabytes is utilized, an automatic increase occurs, giving the user 3 terabytes. This process continues until the 10 terabytes of storage space is allocated to an account.

There is no suggestion that this is a promotion, or limited offer in any fashion, in fact it looks very much like 10-terabyte accounts are going to be a permanent Tencent fixture. It is, however, highly unlikely that many people will fully benefit from Tencent's full allocation of space, because that is an awful lot of space! The move has though raised the cloud storage bar. The leading providers are bound to take note, and in China they already have - Baidu and Qihoo 360 are now offering free 1-terabyte accounts.

Do you need terabytes of cloud storage space? What for? Add your comments below.




Comment News
| | | | | | |
| --- | --- | --- | --- | --- | --- |
| Connect with | | or | | or | |