Cloud Application Providers Standing Cloud Extends Support for HP Cloud Services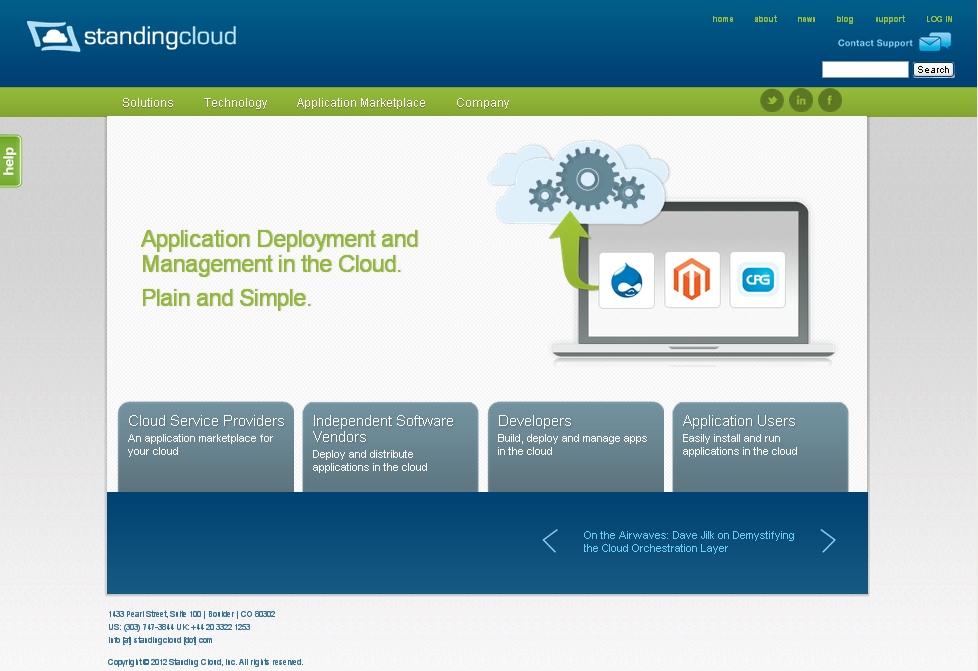 In an announcement today (May 10, 2012), Standing Cloud have declared their support for the HP Cloud Services. The newly launched services will provide customers with a way to deploy, manage and distribute applications in the cloud in a more simplified way.

Founded in 2009,Standing Cloud, a leading provider of cloud application management solutions, provide cloud application management services.

The new Standing Cloud powered by HP Services, provides developers, enterprise users and ISVs with one-stop application hosting, installation and management, using Cloud Services' infrastructure capabilities and elements of the Standing Cloud Application Marketplace.

David Kilk, CEO of Standing Cloud commented, "We believe that Standing Cloud and HP Cloud Services share a common vision of the infrastructure cloud – one that is intuitive, interoperable, open source-based and user-focused, with a minimum of system administration overhead," he said.

The Standing Cloud Application Marketplace provides the solution tochallenges faced by Infrastructure-as-a-Service (IaaS) providers in moving up to the application layer.

Its intuitive user interface, will help cloud providers meet the application needs of their customers. This is done with a broad catalog of open-source applications and development platforms, and automated deployment and lifecycle management features help.

The availability of Standing Cloud powered by HP Cloud Services comes on a day which coincides with today's public beta launch of HP Cloud Services.

Speaking of today's announcement Jilk proclaimed. "This collaboration builds on that promise, and we're pleased to be working with them."

About Standing Cloud

Standing Cloud is a leading making application deployment, management and distribution fast, simple and hassle-free for their customers. Founded in 2009, Standing Cloud is based in Boulder, Colorado. Investors include Foundry Group and Avalon Ventures.
Comment News
| | | | | | |
| --- | --- | --- | --- | --- | --- |
| Connect with | | or | | or | |