Cloud Computing Service iomart Group plc Ranked Top 20 in The World For Providers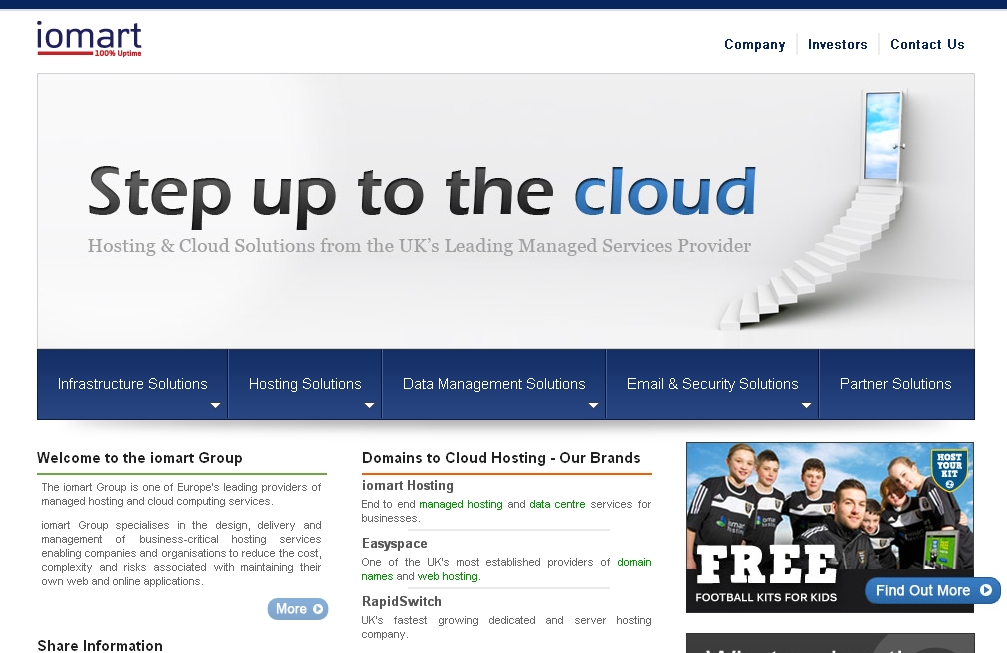 In an annual report of the best ranked cloud service providers, UK company iomart has been ranked at number 20, in the report published by Nine Live Media.

The IT industry analyst placed the Glasgow-based company in the top 20 and also reported them as being the 16th fastest-growing CSP based on revenue growth from 2010-2011, with the top company in both lists being Amazon Web Services.

"It's great to see iomart ranked alongside some of the most globally recognised names in the IT industry," said Angus MacSween, CEO of iomart Group PLC.

"This report reflects the fact that we are offering the right solutions to businesses in a high growth and competitive marketplace. By specialising in private cloud and hybrid cloud, iomart offers the secure and reliable solution to businesses who are still nervous of leaping into the public cloud."

Collectively between the top 100 Cloud companies, $2.3bn was generates in cloud services revenues in 2011, increasing an astonishing 45.6% from the previous annum.

The report, based on a number of metrics including total revenues, growth, profitability and services, was reconfigured in 2011 in order to focus on the cloud computing market, while changing its title to Talkin' Cloud 100 from Talkin' Cloud 50.

The Scottish company is due to declare its annual results at the end of May, with a pre-close statement suggesting an adjusted profit before tax showing of approximately £6.7m.

MacSween added: "The figures in this report further validate our strategic direction and confirm that cloud computing is now the de facto hosting choice."

iomart Group PLC was recently named Scottish PLC of the Year, being described as 'exceptionally impressive' by the judges. The Group's customers include office2office, fashion retailer Reiss and cheap flights searcher Skyscanner.

Copies of the Talkin' Cloud 100 report are available at http://www.talkincloud.com/

About iomart Group plc

iomart Group plc (AIM:IOM) is one of the UK's leading providers of managed hosting and cloud computing services. From a single server through to private cloud networks, iomart specialises in the delivery and management of mission-critical hosting services, enabling customers to reduce the costs, complexity and risks associated with maintaining their own web and online applications.

By physically owning and managing its own global network infrastructure, iomart offers world-beating levels of service to its customers. The Group offers a unique 100% uptime guarantee with all hosting services being engineered to ensure no single point of failure.

iomart Group operates in its chosen markets through a number of subsidiaries: iomart Hosting, RapidSwitch, Easyspace, EQSN and Westcoastcloud. The group has been listed on the London Stock Exchange's Alternative Investment Market (AIM) since April 2000.
Comment News
| | | | | | |
| --- | --- | --- | --- | --- | --- |
| Connect with | | or | | or | |