Cloud Hosting Provider Solar Communications Expands Service Offerings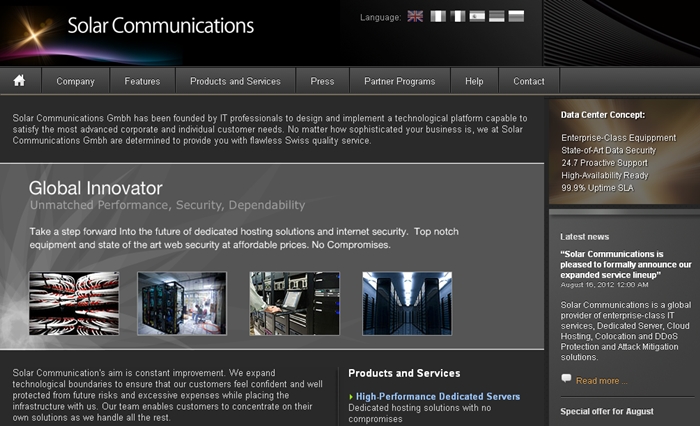 Solar Communications is looking to expand its services in order to provide more offerings to its customers, according to a recent statement.

The provider of enterprise-class IT services claims its aim to improve its "market penetration" through a growing range of services out of its data center based in Zurich, Switzerland.

Included in its range of services are dedicated servers, colocation and a revenue share program, which all benefit from the Swiss company's 24/7 support service.

Within its expanding horizon of solutions is the Solar Communications cloud hosting package, which come connected to a 10 Gigabite network and are based on Intel Xeon Processors.

In the statement which expressed the company's view for growth, the IT services providers stated that their services ensure a "fully redundant infrastructure, top upstream providers, free backup facility and 24/7 monitoring to guarantee performance and high degree of resiliency."

About Solar Communications

Solar Communications Gmbh has been founded by IT professionals to design and implement a technological platform capable to satisfy the most advanced corporate and individual customer needs.



Comment News
| | | | | | |
| --- | --- | --- | --- | --- | --- |
| Connect with | | or | | or | |