Cloud Infrastructure Solutions Company VMware to Acquire DynamicOps, Inc.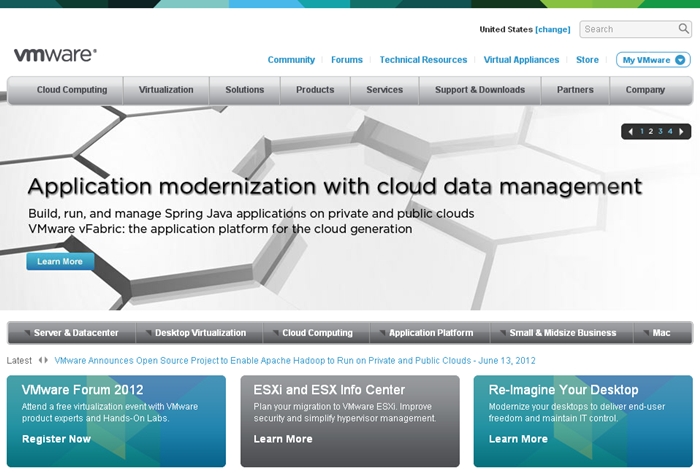 VMware has announced the acquisition of cloud automation solutions company DynamicOps, Inc, in a deal which is set to finalize in Q3 of 2012.

DynamicOps services enable the management of IT services across a variety of environments including VMware's public and private clouds along with multiple hypervisors and Amazon Web Services.

VMware, the global providers of cloud infrastructure and virtualization signed the agreement in order to provide their customers a standardized architecture and will enforce a solution in order for users to select a model that meets their requirements.

Ramin Sayar of VMware spoke of how acquiring DynamicOps will benefit his company. "DynamicOps' multi-cloud and multi-platform capabilities help to strengthen VMware's position as the infrastructure and management vendor of choice for cloud computing," said the vice president and general manager of Virtualization and Cloud Management.

VMware has stated that customers who currently utilize their public and private clouds on vSphere can rest assured that they can continue to rely on VMware vCloud Director for the management of their resources.

DynamicOps will look to build on the currently capabilities of vCloud Director in order to offer a service for users whose requirements have exceeded the current offerings of VMware.

CEO of DynamicOps, Rich Krueger, commented that the two companies "share a common vision for dramatically simplifying the management and provisioning of IT resources in the Cloud era."

He continued; "I'm excited about DynamicOps joining VMware, and expect our customers to benefit from increased investment and support in the solutions they rely on to optimize their delivery of IT-as-a-service."

About DynamicOps

DynamicOps' cloud automation and management solutions enable enterprises to evolve existing infrastructure into scalable private, public and desktop cloud services in days. Using DynamicOps' groundbreaking Operations Virtualization technology, organizationally-aware cloud platform, and extensive out-of-the-box functionality, customers realize fast time-to-cloud value and respond to market demands quickly and economically. Enterprises boost IT efficiency and easily embrace consumerization by empowering users with personalized, instantly available services. Awarded "Best of VMworld Private Cloud" and named "Cool Vendor in Cloud Management" by Gartner Research, DynamicOps is privately held and based in Burlington, MA.

About VMware

VMware is the leader in virtualization and cloud infrastructure solutions that enable businesses to thrive in the Cloud Era. Customers rely on VMware to help them transform the way they build, deliver and consume Information Technology resources in a manner that is evolutionary and based on their specific needs. With 2011 revenues of $3.77 billion, VMware has more than 350,000 customers and 50,000 partners.

Comment News
| | | | | | |
| --- | --- | --- | --- | --- | --- |
| Connect with | | or | | or | |