Cloud Provider Datapipe Climbs 49 Places in Solution Provider 500 Table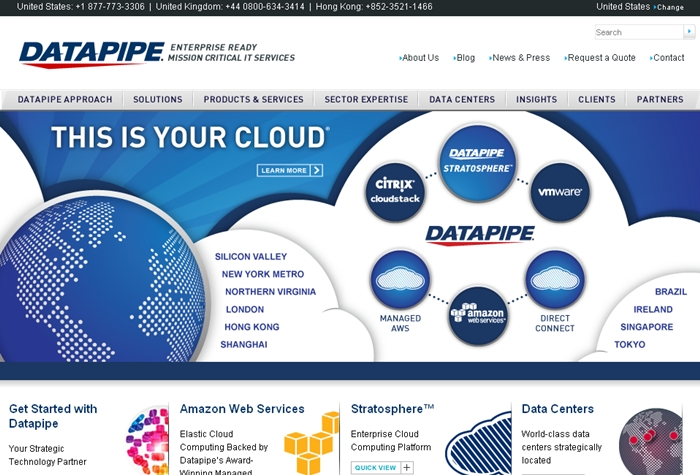 Cloud provider Datapipe has been inducted into CRN's 2012 Solution Provider 500 list, as a result of its cloud computing and virtualization, disaster recovery and IaaS solutions.

UBM Channel selected the global providers for the accolade formerly known as the VAR 500, which ranks the highest producing solution provider organizations. The awards were distributed at the SP500 Executive Conference and Awards which took place in early June.

For Datapipe, their reign in the 500 has now reached four years, with 2012 seeing them climb 49 positions, now placing them at 172nd in the list.

Robb Allen, Datapipe's CEO expressed his thoughts on the company's increasing position in the market, "Datapipe has grown by forming alliances with strategic partners to deliver comprehensive IT solutions."

"This partner ecosystem combined with our global data center footprint, world class service, and support, positions Datapipe as a single provider solution and a powerful resource for enterprise organizations."

The rankings take into account revenue size while also considering company's forward-thinking approach to the channel. It also looked at companies building their practices around data center and virtualization and offer software integration and application development skills.

Kelley Damore, Vice President and Editorial Director at UBM Channel spoke of the successful applicants for the 2012 awards. "The organizations listed in this year's Solution Provider 500 list are today's true integration innovators who generate high revenues by putting their customers' needs first."

She concluded; "In essence, they are today's IT integration leaders for middle market and enterprise customers. We congratulate Datapipe for making this year's list and look forward to covering their continued success."

About Datapipe

Datapipe offers a single provider solution for managing and securing mission-critical IT services, including cloud computing, infrastructure as a service, platform as a service, colocation and data centers. Datapipe delivers those services from the world's most influential technical and financial markets including New York metro, Silicon Valley, London, Hong Kong and Shanghai.

About UBM Channel

UBM Channel is the premier provider of IT channel-focused events, media, research, consulting, and sales and marketing services. With more than 30 years of experience and engagement, UBM Channel has the unmatched channel expertise to execute integrated solutions for technology executives, managing partner recruitment, enablement and go-to-market strategy in order to accelerate technology sales. UBM Channel is a UBM company.

Comment News
| | | | | | |
| --- | --- | --- | --- | --- | --- |
| Connect with | | or | | or | |