Cloud Service Provider Datapipe Introduces Enhanced Stratosphere Elastic Cloud Computing Platform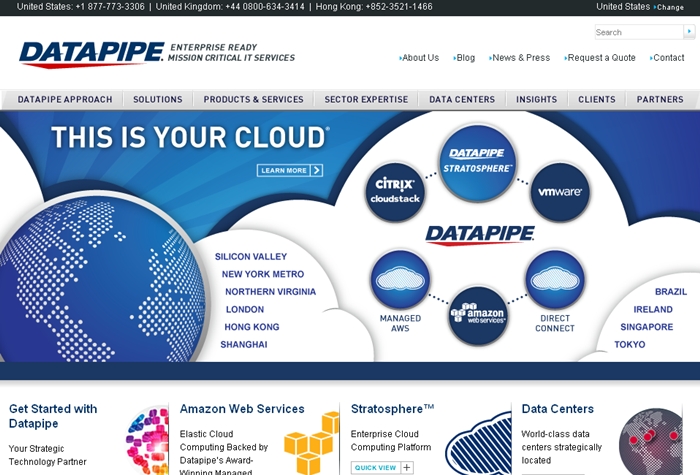 Datapipe's Stratosphere Elastic Cloud Computing platform has become the first globally available Apache CloudStack following recent enhancements.

The cloud service provider made the announcement during a statement that also proclaimed the platform available to a number of American areas, along with London, Shanghai and Hong Kong.

The Stratosphere, which is accessed through a self-service client portal, uses the Citrix CloudPlatform, and will benefit from being able to deliver delivering a highly-scalable Infrastructure-as-a-Service cloud.

Speaking about the enhancements that have led to the global stratosphere, Peder Ulander, VP of Product Marketing at Citrix, said; "With multiple availability zones distributed across North America, Europe and Asia, Datapipe's Stratosphere platform is the most widely deployed Apache CloudStack environment on the market."

A notable feature of the platform is the provision of the ability for customers to build and deploy cloud applications through Datapipe's Stratosphere and Amazon Web Service' public cloud.

Ulander continued; "Datapipe's vision of providing high-performance, elastic cloud services that meet the needs of the global enterprise - while embracing Amazon AWS compatibility and open source innovation - is well aligned with our cloud efforts at Citrix. We're excited to be working with Datapipe on their leading global public cloud services."

According to Datapipe, the self-service cloud environment will include additional features; such as single security zone across all regions, scale storage independent of compute and additional cost savings as a result of high performance VM's that require fewer computing resources.

Ed Laczynski, Datapipe's VP of Cloud Strategy continued to highlight the benefits of the first globally available Apache CloudStack.

He stated; "Stratosphere has removed much of the confusion and difficulty typically associated with operating cloud platforms, to offer a user-friendly, easy-to-understand interface for deploying cloud services across the world."

Datapipe's are offering a free 30-day trial of the Stratosphere Elastic Cloud Computing available at :http://pages.optify.net/datapipe-stratosphere-elastic-cloud-platform.

About Datapipe

Datapipe offers a single provider solution for managing and securing mission-critical IT services, including cloud computing, infrastructure as a service, platform as a service, colocation and data centers. Datapipe delivers those services from the world's most influential technical and financial markets including New York metro, Silicon Valley, London, Hong Kong and Shanghai.
Comment News
| | | | | | |
| --- | --- | --- | --- | --- | --- |
| Connect with | | or | | or | |