GoGrid Named Champion For a Second Year By Info-Tech Research Group Report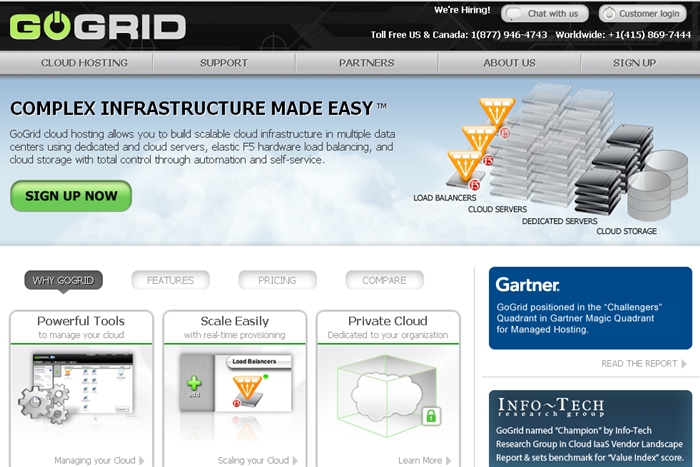 GoGrid is celebrating the acclimation of being announced a "Champion" in Info-Tech Research Group's "Vendor Landscape: Cloud Infrastructure-as-a-Service" report.

For the second year running, the cloud infrastructure company were honoured by the report that recognizes outstanding vendors in the technology marketplace.

The requirements to earn the title "Champion" were for companies to show the strength of their offering and their strategy for the enterprise.

John Sloan, Lead Research Analyst at Info-Tech Research Group, explained the factors behind dubbing GoGrid as the victors in their category, saying "The report highlights GoGrid as one of the industry's most experienced infrastructure providers."

"In the 2012 report, we again list GoGrid as a Champion. Our analysis was extremely thorough evaluating criteria such as features, usability affordability and architecture," he stated.

This year's report commended GoGrid for its hybrid cloud model and SLAs, while also noting their history as an established company as a major factor in being the choice for a large number of organizations.

GoGrid's founder and CEO John Keagy spoke of the delight in capturing the top spot for a second year running. "Being named Champion for the second year in a row validates our ability to make complex cloud infrastructure easy and accessible," he commented.

"Info-Tech Research Group highlights the importance of providing value beyond simply a product. Customers need flexible solutions with outstanding features, support, and performance that help them scale and succeed.

"Our automated IaaS platform lets businesses build what they need quickly and efficiently using the latest cloud technology."

About Info-Tech Research Group

With a paid membership of over 25,000 members worldwide, Info-Tech Research Group is the global leader in providing tactical, practical Information Technology research and analysis. Info-Tech Research Group has a fourteen-year history of delivering quality research and is North America's fastest growing full-service IT analyst firm.

About GoGrid

GoGrid is the #1 pure-play Infrastructure-as-a-Service (IaaS) provider specializing in Public Cloud and Private Cloud Infrastructure solutions. Currently powering thousands of customers globally, GoGrid makes complex infrastructure easy by enabling businesses to revolutionize their IT environments with the cloud. In just minutes, GoGrid customers can deploy and begin managing applications and workloads on our proven, secure and reliable public cloud platform. With GoGrid's Public Cloud and Private Cloud offerings, sysadmins, developers, and IT professionals create, deploy, and control cloud environments and complex virtual and physical server networks with full administrative control; with GoGrid's Private Cloud customers utilize a private, hosted and managed server, single-tenant environment with zero capital expenditure. To further leverage the GoGrid cloud, the Partner Exchange provides users with an evolving ecosystem of cloud solutions from GoGrid's partner community. GoGrid is proud to have been recognized as a "Visionary" two years in a row by Gartner and as a "Champion" by Info-Tech Research Group in 2011.
Comment News
| | | | | | |
| --- | --- | --- | --- | --- | --- |
| Connect with | | or | | or | |