i2k2 Networks Secures Double ISO Certification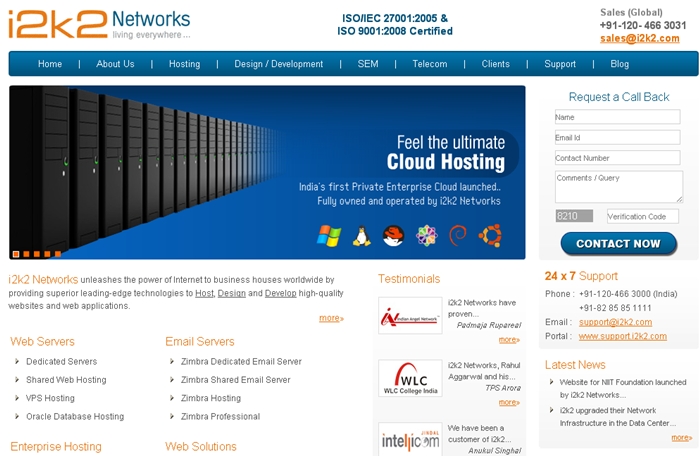 Hosting solutions company i2k2 Networks has secured two respected certifications which will assure customers of its confidentiality, risk analysis and management.

The awarded certificates, the ISO 9001:2008 and ISO 27001:2005, are a result of i2k2 Network's business continuity and both reward different competencies.

The first refers to meeting requirements for a quality management system, while the latter is due to i2k2 Network's implementation, monitoring, reviewing, maintaining and improving of the documented Information Security Management System.

Rahul Aggarwal, CEO at i2k2 Networks said: "Every businessman believes he is offering his clients with at par quality service. Though it is required to have an independent verification. With ISO certification, we get constant review of our work and are able to keep improving what we do.

"This helps us in meeting with our client's requirements. A large part of ISO certification involves committing to the training resource and permitting people to abide by these standards. Our trusted employees along with our principles are sure to set benchmarks in the industry."

According to the company, following the award of the two certificates, it will now be looking to provide more "innovative, advance and competitive IT solutions to the clients."

COO of i2k2 Networks, Kamleshwar Bhatt, stated: "ISO registration is extremely crucial to i2k2 because our clients represent in both national and international market."

He continued: "With the help of this certification, we will be able to demonstrate our commitment towards quality in our services. We recognize the rigorous ISO standards and adhere in all aspects during our operations."

About i2k2 Networks

i2k2 Networks doesn't require introduction in the field of IT solutions. For the past 12 years company is engaged in offering an array of hosting solutions, web development, website designing, SEM services and much more. Established in the year 2000, the company has gain specialization in the different web applications and has always paying the highest attention to the clients requirement.
Comment News
| | | | | | |
| --- | --- | --- | --- | --- | --- |
| Connect with | | or | | or | |