Idera Launch R1Soft CDP for Private and Public Clouds in Spanish and Japanese Speaking Markets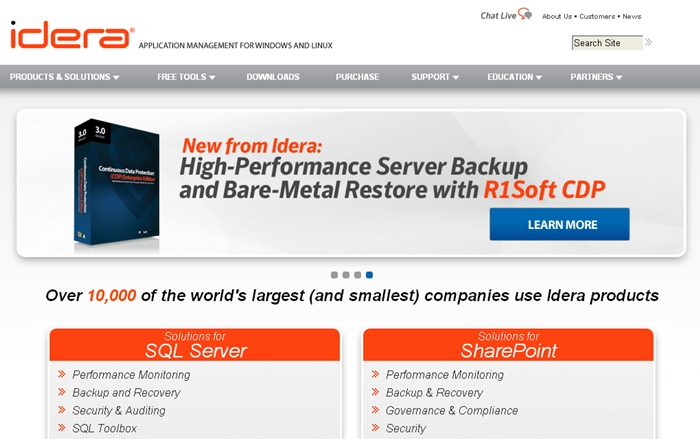 Texas-based Company Idera has announced that R1Soft Continuous Data Protection 4.0 has been fully localized for Spanish and Japanese speaking markets.

The providers of server and application management solutions already deploy their products for servers in the cloud across over 1,000 data centers and will now reach out to the Japanese and Latin American markets.

The R1Soft CDP enables users to restore operations in their native languages through a web-based user interface. The new markets will accompany Idera's customer base that already exists in North America and Europe.

VP of R1Soft Products, David Wartell, spoke of the new initiative, "R1Soft CDP is known in North America and Europe for having the fastest, most scalable, yet, affordable server backup software for both Windows and Linux platforms in private and public clouds," he stated.

"Expanding into Japan and Latin America will provide these regions with the same high performance backup software that currently protects more than 250,000 Windows and Linux servers."

For more information please visit http://www.r1soft.com/windows-cdp/cdp-enterprise-edition/new/.

About R1Soft

R1Soft a division of Idera and the developer of Continuous Data Protection (CDP), scalable and high-performance backup software for Windows and Linux servers in the cloud. Recognized as the leading commercial backup software in hosted services, R1Soft CDP is currently used by over 1,000 public cloud infrastructure providers and protects more than 250,000 servers worldwide.

About Idera

Idera provides systems and application management software for Windows and Linux Servers, including solutions for SQL Server and SharePoint administration. Our award-winning products address real-world challenges including performance monitoring, backup and recovery, security, compliance, and administration. Headquartered in Houston, Texas, Idera is a Microsoft Managed Partner and has over 10,000 customers worldwide.
Comment News
| | | | | | |
| --- | --- | --- | --- | --- | --- |
| Connect with | | or | | or | |