Infinity Virtual implements McAfee SaaS Total Protection to Its Cloud Hosting Platform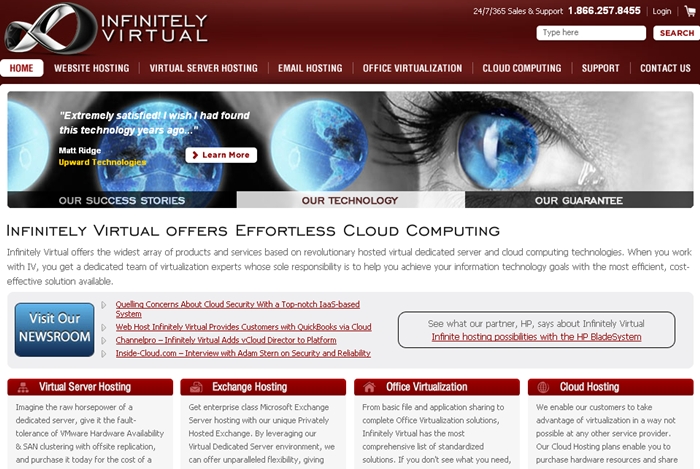 Infinity Virtual has adopted McAfee's SaaS Total Protection to provide added security for their customers email, internet and networks.

The service, which will be available to clients either annually or on a monthly basis, will also offer host-based and cloud based web filtering, email filtering and continuity and constantly updated software to protect against ever evolving security threats.

The providers of virtual server cloud computing services for businesses will offer the service as their sole protection for customers, claiming they are "placing threat protection under one roof."

Adam Stern, founder and CEO, Infinitely Virtual, supported this by saying, "Our clients asked for an all-in-one solution and we've responded by partnering with an industry leader in the security space.

"With McAfee, we're delivering end-to-end protection, enabling customers to receive immediate, up-to-the-minute threat protection to ensure that data, systems, and networks are instantly and consistently secure.

The comprehensive hosted solution will look to cement their security measures and provide sufficient protection for their customers, a priority that Infinitely Virtual partner, Nate Freeman, says is always important.

"Data security is always a primary concern for our customers," he said. "Adding McAfee SaaS Total Protection to the already robust Infinitely Virtual security platform is the icing on the cake. We like the fact that Infinitely Virtual continues to raise the security bar for all of us in the cloud hosting field."

Infinity Virtual will use the newly implemented web SaaS protection to stop malicious and suspicious sites, malware and other web-borne threats.

CEO, Stern continued, "McAfee nicely complements our intrusion detection and prevention system, which goes beyond the firewall to stop malware, phishing, SQL injection and other aggressive threats."

"With McAfee, and our intrusion detection and prevention (IDPS) combining forces, we are offering companies the toughest security available to protect their data in the cloud," he concluded.

About Infinitely Virtual

Infinitely Virtual is a leading provider of high quality and affordable virtual server technology, capable of delivering services to any type of business, via terminal servers, SharePoint servers and SQL servers - all based on Virtual Dedicated Servers. The company was established as a subsidiary of Altay Corporation, and through this partnership, Infinitely Virtual provides customers with expert 24×7 technical support. With an innovative approach to virtualization - one that includes reliance on its IaaS and SaaS tools for its own operation -- Infinitely Virtual provides aggressively priced options that competitors simply cannot meet.
Comment News
| | | | | | |
| --- | --- | --- | --- | --- | --- |
| Connect with | | or | | or | |