International Tech Company Cisco to Acquire IoT Cloud Company Jasper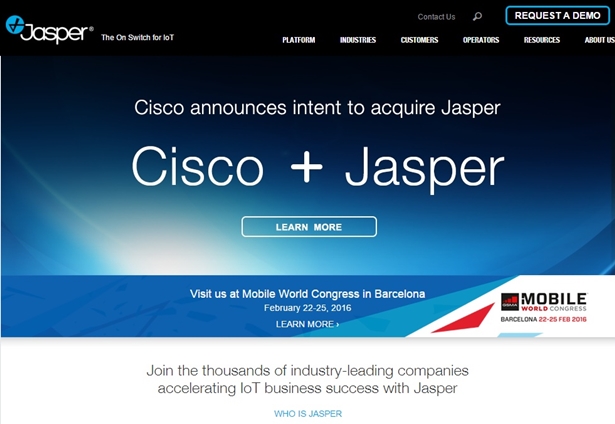 International technology company Cisco has agreed to acquire Internet of Things (IoT) cloud company Jasper Technologies (Jasper). Cisco, which has headquarters in San Jose, California, United States, is a global brand recognized for designing and manufacturing networking equipment. The deal, which was said to be in the region of $1.4 billion, will enhance Cisco's IoT capability adding enterprise WiFi, security and advanced analytics to its platform.

Jasper, which has headquarters in Santa Clara, California, United States, specializes in enabling "product businesses" to transition to becoming IoT service providers by offering a cloud-based SaaS platform which supports IoT-related software. The company caters to a global base of around 3,500 companies by helping them to collect and analyze data from connected devices.

"Jasper was founded over a decade ago on the premise that through cloud software we could help enterprises realize the power of IoT," explained the company's CEO, Jahangir Mohammad in a press release on the company's site. "Since then we've been helping enterprises transform into connected service businesses with all of the associated benefits: new customer experiences, automated operations and new recurring revenue streams." He added, "As we become part of Cisco, we shall carry this mission with us. Our commitment to the platform and to your success is unwavering".

Do you know of any other companies involved in acquisitions? Let us know the details. Add your comments below.

Comment News
| | | | | | |
| --- | --- | --- | --- | --- | --- |
| Connect with | | or | | or | |