Lloyds Bank Distributes £20million Credit Facility to Cloud Provider iomart Group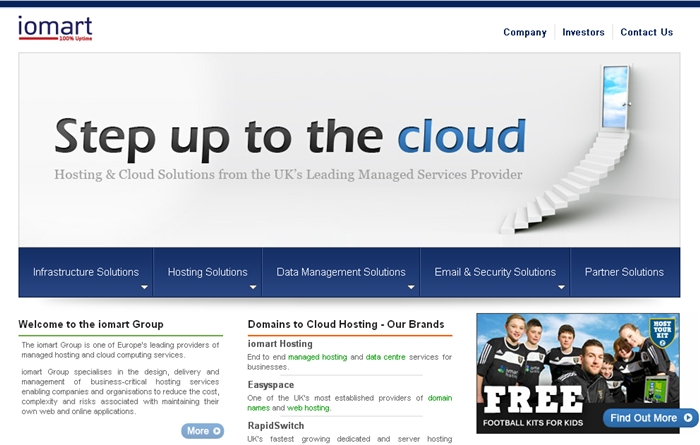 Lloyds Bank has provided iomart Group with a £20million revolving credit facility as they look to back their fellow Scottish company's growth in the cloud services market.

The money has been distributed from Lloyds Bank Wholsesale Banking and Markets which invests in means and acquisitions.

The Glasgow-based Lloyds team previously supported the computing and managed hosting company in 2010 with a £10million facility, and iomart has since experienced substantial growth, making multiple acquisitions including companies such as Switch Media, EQSN and Global Gold.

Speaking on behalf of Lloyds was their Relationship Director in Glasgow and the West, Elaine Prentice who said, "iomart Group is a recognized industry leader and has great potential for further growth. The company has already demonstrated its ability to make successful and strategic acquisitions."

Prentice continued; "This is the second such facility Lloyds Banking Group has provided iomart Group with in recent years and represents not only the latest development in the on-going relationship between Lloyds Bank and iomart Group, but also our commitment to backing the growth aspirations of Scottish businesses."

Awarded Scottish PLC of the Year 2012, iomart has been expanding and picking up a number of awards for its services this year. CEO Angus MacSween highlighted their performance so far this annum saying, "We have enjoyed a strong start to 2012 and the financial backing we receive from Lloyds Bank will help ensure we continue to perform well for the rest of the year, and beyond."

MacSween concluded; "We're on the acquisition trail again this year as we continue our strategy for growth and this increased credit facility from Lloyds Banking Group will allow us to act quickly when the right opportunities arise."

About iomart Group plc

iomart Group plc (AIM:IOM) is one of the UK's leading providers of cloud computing and managed hosting services. The Group physically owns and manages its own data centre network offering a unique 100% uptime guarantee. All the subsidiaries in the iomart Group specialise in the delivery and management of mission-critical hosting services, enabling businesses and organisations in the private and public sector to reduce the costs, complexity and risks associated with maintaining their own web and online applications.

iomart Group operates in its chosen markets through a number of subsidiaries: iomart Hosting, RapidSwitch, Easyspace, and Westcoastcloud. The group has been listed on the London Stock Exchange's Alternative Investment Market (AIM) since April 2000.
Comment News
| | | | | | |
| --- | --- | --- | --- | --- | --- |
| Connect with | | or | | or | |