LuxCloud Among DCL Group Companies Attending ICT Spring Europe 2012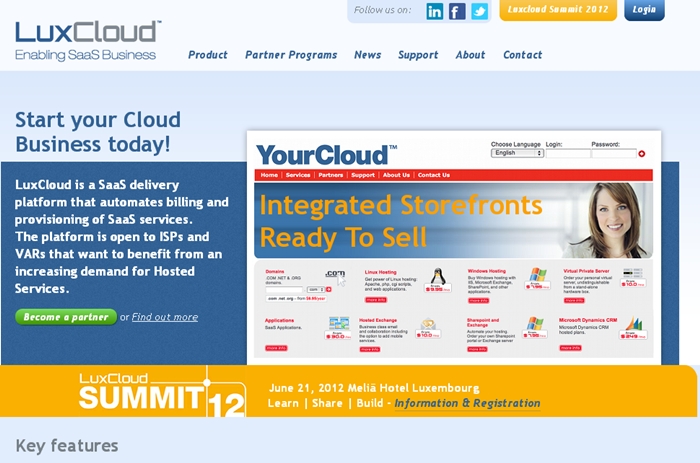 LuxCloud has announced it will be attending the ICT Spring Europe 2012 due to take place in Luxembourg. The event which focuses on the latest trends and solutions on the market along with business technology will take place from June 19-20.

The ICT Spring Europe 2012 recognizes and covers innovation in cloud computing, digital distribution, mobility, social networks and media, disruptive technologies, highlighting trust in security. Described as "an invaluable meeting of minds offering the opportunity to network" it will give companies the opportunity to generate leas and seek-out potential partners.

The Luxembourg-based company is part of the DCL group, which also includes EuroDNS, Datacenter Luxembourg and voipGATE. The founder of the group, Marco Houwen commented on his company attending the event in Luxembourg.

"This will be the third time DCL Group has attended this auspicious event and we support it fully as an occasion for members of the ICT industry, whether national or international," he said.

DCL Group will be a Platinum sponsor at this year's event, and the group has stressed that customers "Don't miss the chance to meet our highly experienced teams, learning about our latest innovations, new products and services offered."

"Four companies from DCL Group will be attending, all market leaders in their own field, and we are looking forward to sharing our knowledge whilst learning from our peers," concluded Houwen.

DCL Group

Datacenter Luxembourg

Datacenter Luxembourg was founded in 2000. The services comprise a datacenter Infrastructure, International Internet & Telco Connectivity, Managed e-Commerce and Housing Services. Server virtualization and scalable storage can be added to this list as added value services, providing businesses with more flexibility, stability and economies of scale. Datacenter Luxembourg operates out of distinct geographical facilities connected to a looped backbone. Added to that are quality bandwidth and IP through its own international looped backbone and third party ones.

LuxCloud

Founded in 2010, LuxCloud is a market leading provider of cloud computing services, allowing companies to quickly launch and profitably deliver the cloud services demanded by small and medium sized businesses. LuxCloud offers customizable own branded solutions enabling resellers, telecoms, system integrators and service providers to sell online any and all of the services and applications available on the platform. The range of applications includes Web and Application Hosting, Messaging & Collaboration, Business Processes and Infrastructure packages.

voipGATE

Founded in 2004, voipGATE operates locally and worldwide as a leading operator in Voice over IP, by offering telecommunication services and local phone numbers in more than 60 countries, allowing customers to establish a virtual presence in their key markets. voipGATE has strong partnerships with key PBX and mobile device vendors to ensure and offer its customers both flexibility and ease of use.

DCL Group looks forward to welcoming you to Luxembourg, and meeting you at ICT Spring Europe 2012.

Comment News
| | | | | | |
| --- | --- | --- | --- | --- | --- |
| Connect with | | or | | or | |