LuxCloud and KPN Unite to Create a Suite of Cloud Based Products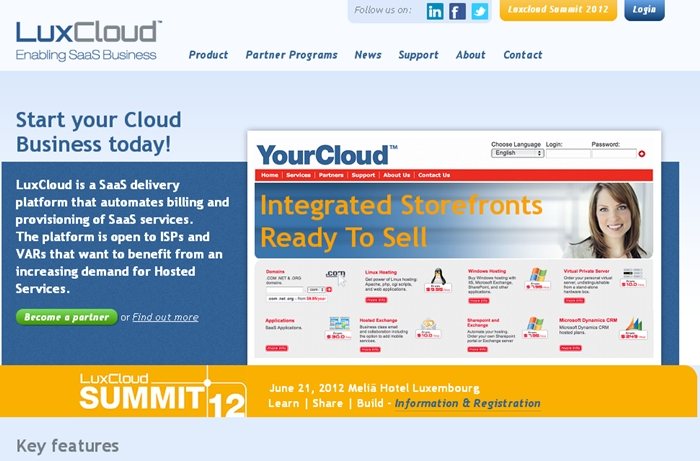 A partnership has been struck between cloud service distributers LuxCloud and KPN, the telecommunications and IT service providers, with a view to create a suite of cloud based products together.

The deal will look to enable KPN to increase their cloud portfolio along with continuing its service of marketing, sales and distribution of services. The Dutch company, which maintains 6.3m fixed line customers, will also benefit from introducing some of LuxCloud's offerings such as a virtual desktop access from any location.

The Luxembourg-based company will look to add the KPN's service by reportedly "Improving response time thus, generating higher levels of productivity and revenue, whilst being fully compliant with European data privacy laws."

This latest partnership follows a recent string of announcements and launches, with their Hosted365 taking off in March, which comprised a compilation of cloud services which allow services providers, telecom operators the chance to offer a hosted desktop with a range of web-based Microsoft programs.

Hosted365, which went live on May 22, will now be made available to KPN's customers following the latest agreements. This allows the users to brad and customize their own identity, giving owners full control of their personal pricing strategy.

The service has already been tried and tested by several businesses with productivity increasing along with cost savings of up to 80%. These results have indicated a ROI within three months.

With KPN's customer base set to benefit, Omar Benameur, Director SaaS & Workspace Management of the Dutch company, spoke of his anticipation of partnering with LuxCloud. "We are excited about our collaboration with LuxCloud and know it will strengthen our position in the telecoms' market," he said.

"LuxCloud offers a highly scalable technology platform which empowers our own products; we anticipate full customer satisfaction thereby reducing churn."

KPN's telecom products being built with the LuxCloud portfolio will look to offer new and existing resellers opportunities for one-stop shopping. According to Marco Houwen, Founder and CEO of LuxCloud, working together will benefit both parties.

"We at LuxCloud are delighted to partner with KPN, an industry leader in online software distribution, and look forward to working closely with KPN on future strategies."

He continued, "LuxCloud believes in the importance of white label cloud brokers and with KPN validating this belief, we will work together to deliver a platform to support businesses, improving their access to cloud services, whilst maintaining a fully secure environment."

About KPN

KPN is the leading telecommunications and IT service provider in The Netherlands, offering wire-line and wireless telephony, Internet and television to consumers. KPN offers business customers complete telecommunications and IT solutions. KPN Corporate Market (previously known as Getronics) offers global IT services and is the Benelux market leader in the area of infrastructure and network related IT solutions. In Germany and Belgium, KPN pursues a multi-brand strategy in its mobile operations and holds number three market positions through E-Plus and BASE. KPN provides wholesale network services to third parties and operates an efficient IP-based infrastructure with global scale in international wholesale through iBasis.

About LuxCloud

LuxCloud is a market-leading provider of cloud computing services, allowing companies to quickly launch and profitably deliver the cloud services demanded by small- and medium-sized businesses. LuxCloud offers customizable branded solutions enabling resellers, system integrators and service providers to sell online any and all of the services and applications available on the platform. The range of applications is constantly evolving, reflecting the needs of the market, and includes Web and application hosting, messaging and collaboration, business processes and infrastructure packages. Part of the DCL Group, LuxCloud was founded in 2010 and is headquartered in Luxembourg. LuxCloud enables a smooth transition of business to the cloud.
Comment News
| | | | | | |
| --- | --- | --- | --- | --- | --- |
| Connect with | | or | | or | |