LuxCloud to Be Gold Sponsor at Parallels Summit 2012 in Singapore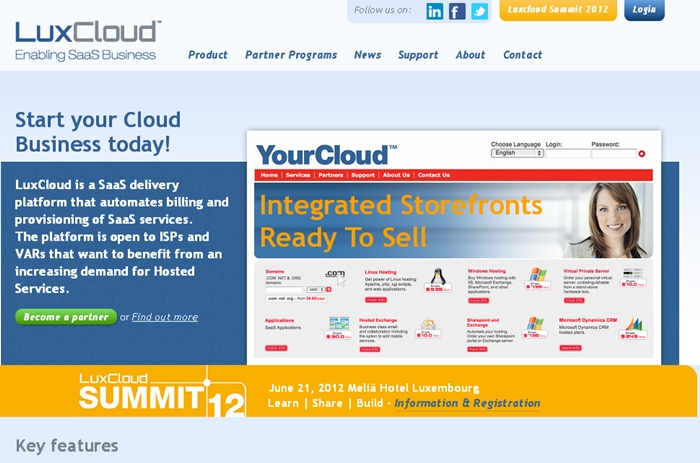 Cloud services distributor LuxCloud has announced both its attendance and sponsorship at the Parallels Summit 2012 in Singapore this September.

The conference for service providers will be taking place in the South East Asian country from the 21-22 and the Luxembourg-based company will join industry experts from around the world this year as a gold sponsor.

Attending for its second year, LuxCloud will also be discussing how to effectively deliver cloud services to small and medium businesses at the event.

Founder and CEO, LuxCloud, Marco Houwen, said: "We are attending this important event aiming to present our products and services to a global audience."

"The LuxCloud team will be striving to increase and share their knowledge of industry trends and all that customers require. We are excited at the prospect of catching up with old contacts and making new ones."

The Summit is seen by many as an essential venue for information, networking and relationship building along with providing a platform to present products and services.

The LuxCloud exhibition booth will be located in Siloso Room 3. To schedule a meeting, please contact info@luxcloud.com.

About LuxCloud

LuxCloud is a market-leading provider of cloud computing services, allowing companies to quickly launch and profitably deliver the cloud services demanded by small- and medium-sized businesses. LuxCloud offers customizable branded solutions enabling resellers, system integrators and service providers to sell online any and all of the services and applications available on the platform. The range of applications is constantly evolving, reflecting the needs of the market, and includes Web and application hosting, messaging and collaboration, business processes and infrastructure packages. Part of the DCL Group, LuxCloud was founded in 2010 and is headquartered in Luxembourg. LuxCloud enables a smooth transition of business to the cloud.
Comment News
| | | | | | |
| --- | --- | --- | --- | --- | --- |
| Connect with | | or | | or | |