Major Indian Cloud Service Provider Joins GlobalSign's Partner Program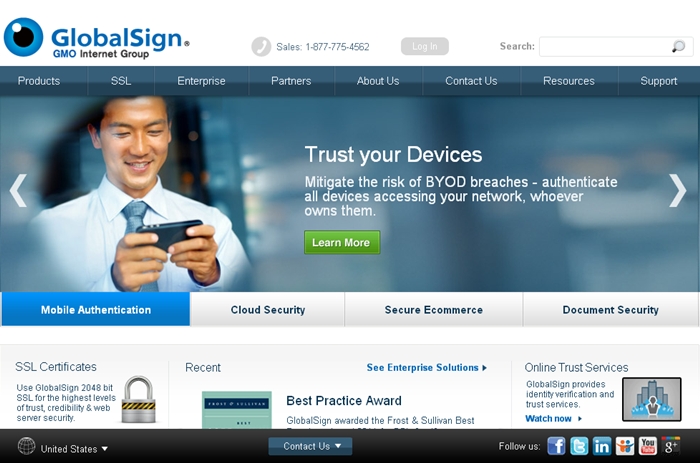 GlobalSign has announced that a leading Indian cloud service provider has joined their Partner Program. BATOI are global providers of IT solutions and services in the cloud, and have opted to partake in the program in order to offer SSL technology to their customers.

With SSL Certificates increasing in demand by 97% over the last two years, the Indian company will utilize them to securing sensitive information through the encryption of data. The SSL technology will also improve trust from end users through showing the organization behind each website, along with the security padlock, and https in the address bar.

BATOI will offer the technology to their customer base as a standalone product through their control panel. The partnership will also allow them access to a local-based dedicated account manager and various other marketing resources.

Paul Tourret, Managing Director at GMO GlobalSign Ltd, spoke of BATOI's decision to join the Partner Program, stating, "We are delighted to introduce BATOI as one of our first Indian partners since we established our office in New Delhi last May."

Through the partnership, BATOI will have the ability to distribute a range of SSL Certificates which includes Domain Validated SSL, traditional Organization Validated SSL and the Extended Validation SSL.

Tourret concluded by saying, "We hope that this new relationship will help BATOI raise awareness of the importance of online security amongst their customer base in an ever-growing market".

About GMO GlobalSign

GlobalSign has been a trust service provider since 1996. Its focus has been, and always will be, on providing convenient and highly productive PKI solutions for organizations of all sizes. Its core Digital Certificate solutions allow its thousands of authenticated customers to conduct SSL secured transactions, data transfer, distribution of tamper-proof code, and protection of online identities for secure email and access control. Vision and commitment to innovation led to GlobalSign being recognized by Frost & Sullivan for the 2011 Product Line Strategy Award. The company has local offices in the US, Europe and throughout Asia.

GMO Internet Group

GMO Internet Group is one of the most comprehensive providers of industry-leading Internet services worldwide. As well as domain registration, web hosting, ecommerce, and payment processing businesses that each hold the top share in their respective markets in Japan, services operated by the group include Internet advertising, search engine marketing and research. Global online security brand GlobalSign and major Japanese online securities brokerage, GMO CLICK Securities are also group members. In 2011 a new Social Media & Smartphone Platform segment was established bringing together group initiatives in social apps development, flash marketing and Android apps distribution. GMO Internet, Inc. (TSE: 9449) is headquartered in Tokyo, Japan.


Comment News
| | | | | | |
| --- | --- | --- | --- | --- | --- |
| Connect with | | or | | or | |