Memset Cloud Sales Secure Them $2 a Year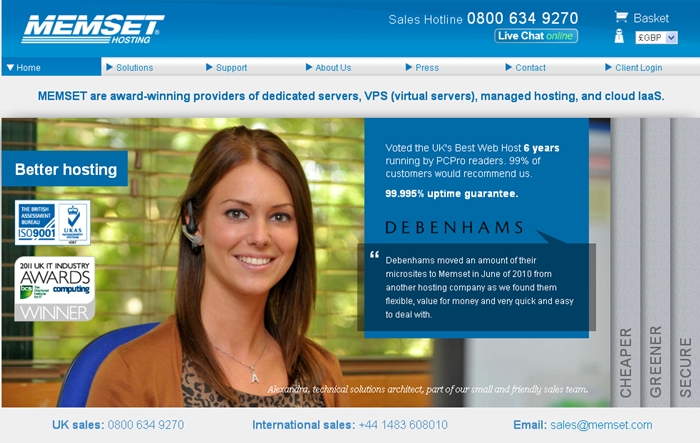 IT hosting company Memset has today released figures showing that their cloud sales are earning them $2m a year.

The UK-based organization has benefitted from the increasing demand in cloud operations, which account for 36% of their business. Miniserver VM virtual servers and MemstoreTM cloud storage have done particularly well with revenues up 49% from Q2 2011.

Memset are attributing their increased profits to their IaaS solution which has enabled users to run programs and store information remotely, therefore saving operational costs.

Kate Craig-Wood, MD of Memset, spoke of his company's position in the UK market. "We currently host one of the largest VM deployments in Britain," he said.

"Our technology is very scalable, allowing us to generate good profits - which we predominantly recycle as growth capital -while retaining our position as price leader in the market place."

Memset caters for 2,900 customers and hosts around 20,000 websites in Britain, while providing infrastructure for businesses such as BBC, Debenhams and Hilton Hotels.

"So far 2012 has been a good year. We are on track to achieve our 2012 revenue forecast, delivering strong growth similar to last year, but we remain committed to managing our growth rate so as to ensure our quality of service does not suffer," Craig-Wood said.

The family business run by brother and sister Kate and Nick Craig-Wood is also reported to be preparing for global growth with the planned deployment of their infrastructure to California.

About Memset

Memset is an award-winning IT hosting company based in Guildford, Surrey. Memset provide managed hosting and cloud computing solutions for businesses (Infrastructure-as-a-Service). Their services range from individual Miniserver VM virtual servers to enterprise-class dedicated server clusters with multi-site fail-over, all without long-term contracts or up-front costs.
Comment News
| | | | | | |
| --- | --- | --- | --- | --- | --- |
| Connect with | | or | | or | |