Saudi Arabian Web Hosting Provider HostGee Launches New Cloud Server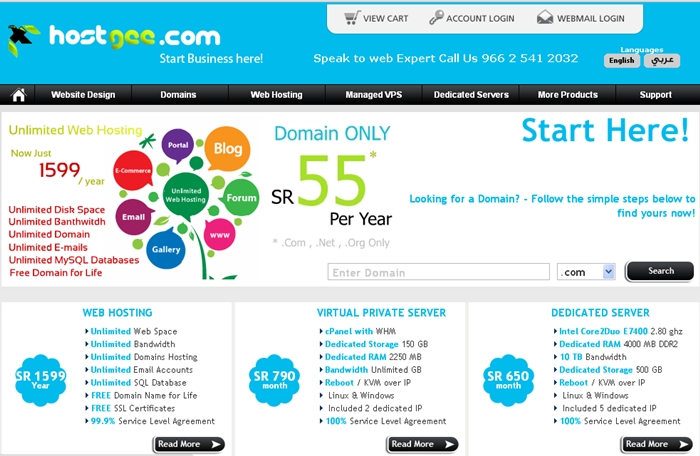 HostGee is launching a new Cloud Server in Saudi Arabia which will allow users to set up their private cloud server network in just three steps.

The web hosting and domain name provider will enable customers to benefit from convenient control panels, a strong infrastructure and firewalls in their latest offering as they look to build on their customer base which already contains over 5,000 users.

The intention of the server is to let companies take control of their personal web hosting environment, according to HostGee CEO Mohammad Al Zahrani.

"It has always been HostGee's primary mission to help businesses grow through our cost-effective, reliable, feature-rich products," he said.

"Cloud Servers is a HostGee innovation that takes the complexity out of a complicated technology, yet gives users a substantial range of sophistication."

HostGee, which also distributes new SSL Certificates, will deploy the Cloud Server on both Linux and Windows operating systems. The users of these systems will be able to configure server networks, create server snapshots and manage server resources on their new release.

Overseeing the development was Vice President of Hosting Development Maher Al Otaibi, who stated that . "Cloud Servers takes Infrastructure as a Service to a whole new level."

Al Otaibi continued; "Cloud Servers helps businesses that need both cost-effective flexibility and scalability. HostGee Cloud Servers offers advanced networking features bundled into an affordable, easy-to-use solution."

"This approach is different from competitors" cloud models and offers customers a high degree of functionality and support at a reasonable price point."

About HostGee.Com

HostGee.Com a division of Gulf InfoNet Est. Providing Web Hosting, VPS Hosting, Dedicated Servers, Web design and online marketing services in Saudi Arabia to over above Four Thousand Web sites and 5,500 customers worldwide. It operates over 50,191 square feet of state-of-the-art data centers that reduce the complexity and cost of Web-based technologies for small businesses and large enterprises. Founded in 2009, HostGee is one of the middle east largest Web hosting companies with a direct presence in 3 countries, 3 worldwide operation centers and more than 75 employees.
Comment News
| | | | | | |
| --- | --- | --- | --- | --- | --- |
| Connect with | | or | | or | |