SingleHop's New Security Accelerator Service Automates Deployment and Management of Advanced Security Features in the Cloud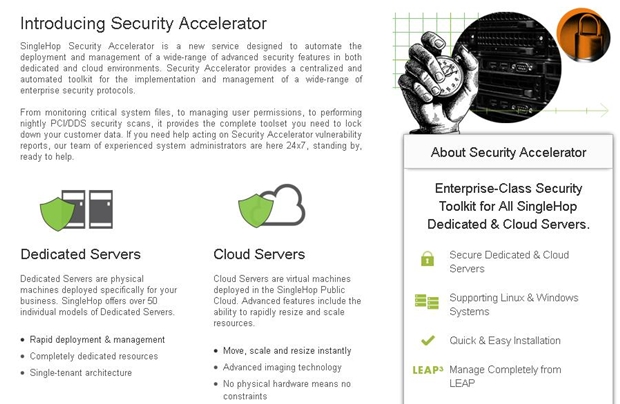 Automated hosting and infrastructure services provider SingleHop has announced a new Security Accelerator Service that automates the deployment and management of advanced security features in the cloud.

Security Accelerator offers a robust range of security features including automated PCI scan alerts, two-factor authentication access components (including a "key" sent by SMS), dynamical Firewall rule configuration, and a control center for managing user access.

The company's SingleHop proprietary automation platform enables organizations to manage cloud-based solutions from any device. With Security Accelerator integrated into the platform, system administrators are offered a range of tools for the implementation of security protocols and can now avoid having to source and manage third-party solutions for compliance features.

"We created Security Accelerator because many of our customers were concerned about security but also intimidated by the complex compliance and regulatory requirements that they needed to meet, such as PCI or HIPAA standards," explained SingleHop's Chief Operating Officer, Andy Pace.

Security and the cloud - sometimes the cloud gets bad press as far as security is concerned. What are the issues? Add your comments below.








Comment News
| | | | | | |
| --- | --- | --- | --- | --- | --- |
| Connect with | | or | | or | |