Software Services Company SkillBuilders Offers Oracle APEX Hosting Options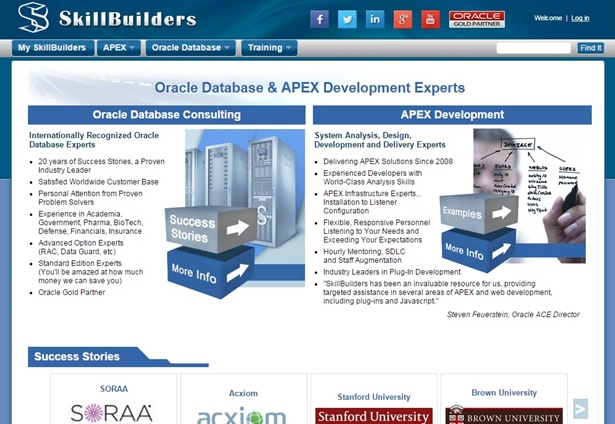 Software services company SkillBuilders is offering Oracle APEX hosting options. The Wakefield, Rhode Island-based company, which was established in 1994, offers "world-class technical expertise in Oracle Database, Oracle Application Express (APEX), UNIX and Web Development" and caters to a global customer base and has a presence across the United States., Europe and Latin America.

SkillBuilders' introduction of Oracle APEX hosting is intended to offer customers a "stable and secure environment for production APEX applications" and is underpinned by ongoing technical support. This service is also supported by Amazon AWS and the use of cutting edge software including "Oracle Database 12c Standard Edition, APEX 4.2.6, Oracle Enterprise Linux 6.5 and APEX Listener ORDS 2.0.10." SkillBuilders is planning an APEX 5 platform immediately upon availability.

"This service, backed by our customer service, gives the industry an enterprise ready solution for their Oracle APEX applications, be they intranet or Internet applications," explained SkillBuilders' Founder and President, David Anderson. "We can often on-board a new customer or existing application within a day. We eliminate all the headaches associated with going live with an APEX application."

Do you know of any other industry players offering new hosting options? Let us know the details. Add your comments below.

Comment News
| | | | | | |
| --- | --- | --- | --- | --- | --- |
| Connect with | | or | | or | |