Swedish Cloud Provider Ipeer Launches Hosted Azure Pack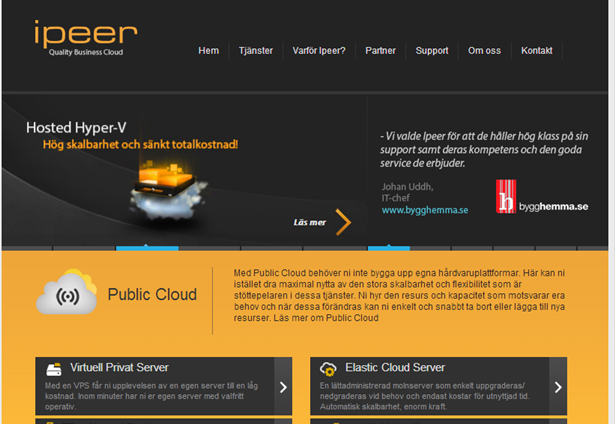 Swedish cloud provider Ipeer has launched a new Hosted Azure Pack based on Parallels new APS which offers a Microsoft Windows Azure service that is around 40% cheaper than similar services in Sweden.

Ipeer, which is present in Karlstad, Stockholm and Bangalore, India, caters to a customer base that includes start-ups and large enterprises and organizations like banks. Founded in 2006, the company has 65 employees and aims to bring "thousands of new customers" to a Microsoft Cloud OS-based local cloud ecosystem that allows customers to extend Hyper-V server environments to the Ipeer cloud.

Ipeer Hosted Azure Pack is one of 5 companies to have tested Windows Azure Pack, Windows Server 2012R2 and System Center 2012R2 with Parallels Automation and the new Azure Pack APS 2 (Application Package Standard). Once in the Ipeer cloud, users can migrate to another Hyper-V-environment and Windows Azure customers can move virtual machines to and from Ipeer.

"Our customers want the cloud's scalability and cost efficiency - but frequently also to have their data in Sweden or get customized solutions at limited cost," explained Johan Hedlund, CEO of Ipeer. "Thanks to Microsoft's Cloud OS vision so they can now get that on proven Windows software with no lock-in effect, at a competitive price."

Do you know of any other companies offering new Windows Azure-based products and services? Let us know the details. Add your comments below.





Comment News
| | | | | | |
| --- | --- | --- | --- | --- | --- |
| Connect with | | or | | or | |