Tips Hosting Launches Cloud Communications and Collaboration Service for Business Users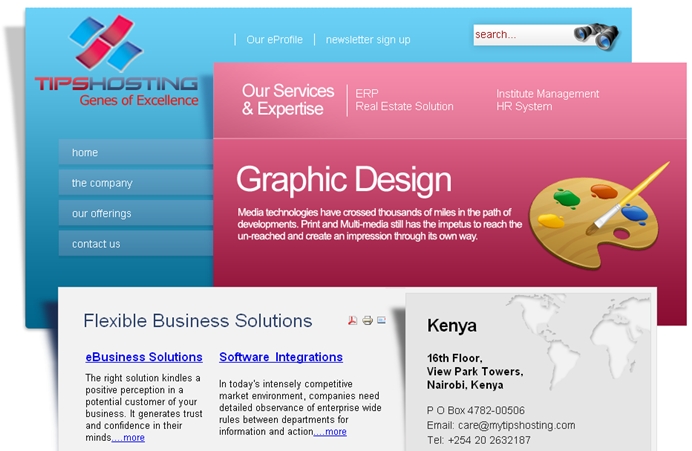 ICT solutions firm Tips Hosting has launched a cloud communications service for businesses users in East and Central Africa.

Based in Kenya, Tips Hosting's service named CloudLIFE will cater for businesses of all sizes and includes instant messaging, file storage and the ever-present social media intergration, just some of the features which will be accessible on Androids, Apple products and PCs and Macs.

The web hosting providers, established in 2006, claims it is aiming to enable users to enjoy "the professionalism" of its solution through using a single address for email and instant messaging.

Ruth Kang'ong'oi, Editor of CIO East Africa, said: "This development from Tips Hosting is very exciting for SMBs because it shows how the Cloud enables them to provision and manage their own communication and collaboration services easily."

"It's also exciting for virtual private server hosting providers like Tips Hosting because they can for the first time now offer powerful communication services that compete with Microsoft Exchange and Google, without investing in dedicated hardware."

CloudLIFE is built for the VPS provider cPanel environment and will excel in "performance and reliability."

Kevin Oromo, Project Manager for Tips Hosting, explained: "The vision of Tips Hosting is to be the genes of excellence in providing cutting edge ICT solutions in East and Central Africa that transform and make a difference in the way people and organizations work."

"In order to achieve this, we need to enable enterprises to make better, faster decisions in a fiercely competitive market. Our CloudLIFE service is such an enabler."

About Tips Hosting

Tips Hosting started in 2006 with the aim of providing Web hosting solutions, Tips Hosting has gradually grown into a fully fledged ICT company with an array of on-demand customer-oriented solutions for its clients. Tips Hosting's collaborative win-win business model with both local and global partnerships has enabled it to deliver complex mission-critical applications and turnkey projects successfully and cost effectively to its diverse clientele while addressing local challenges with globally accepted solutions and standards.

About CommuniGate Systems

CommuniGate Systems develops carrier-grade Unified Communications software for service providers to deliver value-added voice and multimedia services over IP-based networks. The Company's software solutions enable service providers to deliver hosted, SaaS, or Cloud-based communications solutions, including Voice over IP (VoIP), Mobile Voice over IP (mVoIP), Unified Communications and converged mobile and fixed-line services cost-effectively at massive scale. CommuniGate Systems' open-source cPanel plugin is the industry's first Unified Communications hosting platform for virtual environments. The Company's software also includes the industry acclaimed CommuniGate Pro, Pronto!, the Unified Communications client for mobile, web and desktop.

Comment News
| | | | | | |
| --- | --- | --- | --- | --- | --- |
| Connect with | | or | | or | |