UK Cloud Computing Company iomart Group Captures The North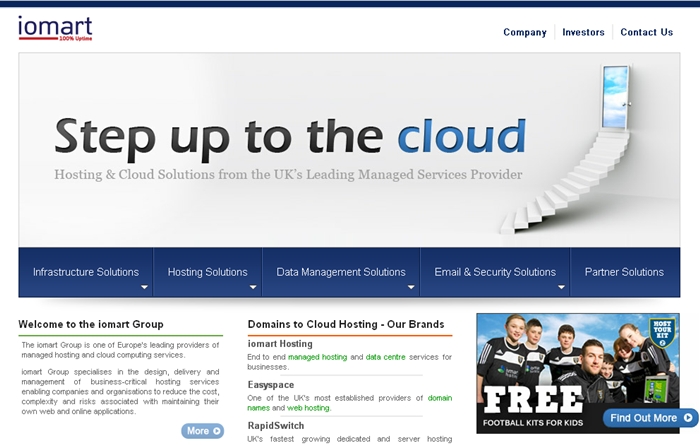 Cloud computing provider iomart Group has acquired Manchester-based Melbourne Server Hosting, marking its first presence in the north of England.

The UK Company, currently operating predominantly in the south of the country, will take over Melbourne's data centers on the Manchester Technopark, along with also acquiring a nearby disaster recovery facility.

iomart Groups CEO, Angus MacSween said: "This is an important acquisition for us as it gives us our first physical data center presence in the North West of England."

"It increases iomart Group's network of fully owned and managed UK data centers to seven and puts us firmly at the heart of the growing online and media business hub that Manchester has become."

Melbourne Server hosting has applied its services to around 600 customers country-wide including PZ Cussons, JJB Sports and a number of IT companies. In addition to this, it earned significant publicity from hosting the Jubilee Time Capsule, a gift to Her Majesty Queen Elizabeth II for her Diamond Jubilee.

Daniel Keighron-Foster, CEO of Melbourne Server Hosting, has spent over 10 years with the company and stated that the company "prides itself on the personal service it gives to customers."

He continued: "I believe that Melbourne's great local reputation and iomart Group's established status as one of the UK's leading hosting providers will be a powerful combination and I'm looking forward to this next stage."

Melbourne's customers will not be able to benefit from a range of iomart's offerings ncluding web hosting services, 24/7 technical support and high Service Level Agreements.

MacSween concluded: "We've been looking to gain a foothold in the Manchester area for some time and Melbourne provided us with the right opportunity.

The fact that it already has a great reputation in the region and owns and manages its own data centres offered the perfect path for us to enter what is a very competitive regional market for top quality hosting."

About iomart Group plc:

iomart Group plc (AIM:IOM) is one of the UK's leading providers of managed hosting and cloud computing services. From a single server through to private cloud networks, iomart specialises in the delivery and management of mission-critical hosting services, enabling customers to reduce the costs, complexity and risks associated with maintaining their own web and online applications.

By physically owning and managing its own global network infrastructure, iomart offers world-beating levels of service to its customers. The Group offers a unique 100% uptime guarantee with all hosting services being engineered to ensure no single point of failure.

iomart Group operates in its chosen markets through a number of subsidiaries: iomart Hosting, RapidSwitch, Easyspace, EQSN and Westcoastcloud. The group has been listed on the London Stock Exchange's Alternative Investment Market (AIM) since April 2000.

Comment News
| | | | | | |
| --- | --- | --- | --- | --- | --- |
| Connect with | | or | | or | |