VMware Hosting Provider StratoGen Meets Demand for Public Cloud Services in Asia by Opening a New Cloud Datacenter in Malaysia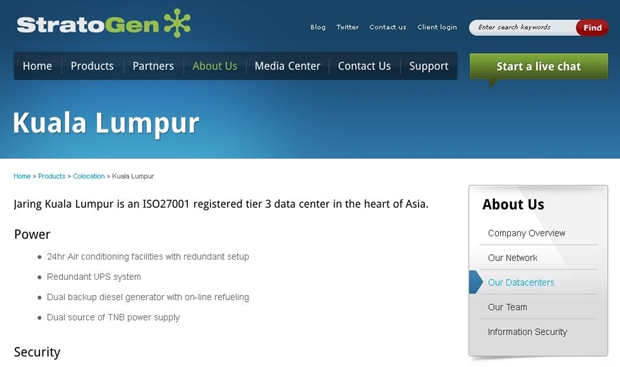 VMware Hosting Provider StratoGen is meeting demand for public Cloud services in Asia by opening a new cloud datacenter in Kuala Lumpur, Malaysia. The strategic location of the datacenter makes the company one of handful of providers who can offer a truly global cloud hosting solution, meaning StratoGen's customers can establish a truly global infrastructure.

Built with a design based on StratoGen's datacenters in Europe and the United States, the Malaysian datacenter provides full scalability and security to address the cloud requirements of a range of enterprises. The ISO27001 certified datacenter offers N+1 resilience to ensure full availability of systems in the event of component failure, and its cooling and power systems are certified to ensure the ongoing availability of customer data.

The number of solutions offered through the new datacenter is extensive and include public cloud hosting, private cloud hosting (through dedicated resources), disaster recovery (through the company's VMware Site Recovery Manager-based disaster recovery solution), and a guaranteed 100% uptime service level agreement.



Comment News
| | | | | | |
| --- | --- | --- | --- | --- | --- |
| Connect with | | or | | or | |