VMware Releases 'Serengeti' to Enable Apache Hadoop to Run on Private and Public Clouds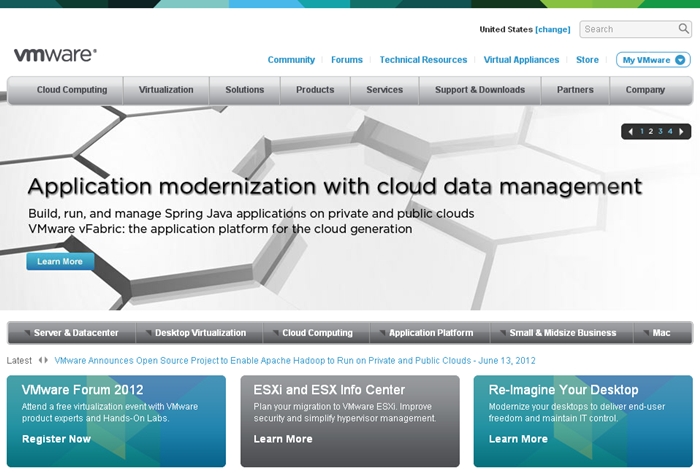 VMware has announced it will be releasing a new open source project entitled Serengeti which will enables businesses to deploy manage and scale Apache Hadoop in virtual and cloud environments.

The service will be available to download for free and will be a one-click deployment toolkit allowing companies to utilize the VMware vSphere platform in otdder to deploy Apache Hadoop cluster n minutes.

Apache Hadoop's depolymen and operations have often been described as complex, however through decoupling Apache Hadoop nodes from the underlying physical infrastructure, VMware are looking to bring the benefits of cloud infrastructure to Hadoop.

Jerry Chen, vice president, Cloud and Application Services, VMware, commented on the move which looks to benefit enterprises, "Apache Hadoop has the potential to transform business by allowing enterprises to harness very large amounts of data for competitive advantage," he admitted.

It represents one dimension of a sweeping change that is taking place in applications, and enterprises are looking for ways to incorporate these new technologies into their portfolios. VMware is working with the Apache Hadoop community to allow enterprise IT to deploy and manage Hadoop easily in their virtual and cloud environments.

VMware also reported that by using Serengeti to run Hadoop, consumers can benefit from the high-availability, fault tolerance and live migration capabilities from the virtualization platform.

The company which provides cloud infrastructure solutions has also been working with Hadoop's distributors such as Cloudera, Greenplum, and IBM to support a wide range of distributions.

Tony Baer, Principal Analyst at OVUM, stated that "Hadoop must become friendly with the technologies and practices of enterprise IT if it is to become a first-class citizen within enterprise IT infrastructure."

"The resource-intensive nature of large Big Data clusters make virtualization an important piece that Hadoop must accommodate."

"VMware's involvement with the Apache Hadoop project and its new Serengeti Apache project are critical moves that could provide enterprises the flexibility that they will need when it comes to prototyping and deploying Hadoop," he concluded.

About VMware

VMware is the leader in virtualization and cloud infrastructure solutions that enable businesses to thrive in the Cloud Era. Customers rely on VMware to help them transform the way they build, deliver and consume Information Technology resources in a manner that is evolutionary and based on their specific needs. With 2011 revenues of $3.77 billion, VMware has more than 350,000 customers and 50,000 partners. The company is headquartered in Silicon Valley with offices throughout the world.
Comment News
| | | | | | |
| --- | --- | --- | --- | --- | --- |
| Connect with | | or | | or | |