Xand and DBSi Merge to Create New Data Center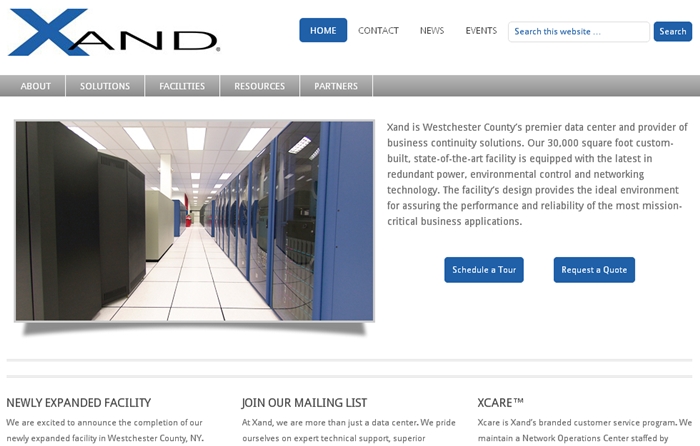 A merger has taken place between Xand and DBSi which will create a private data center firm in the Northeast market place.

Xand, the facilities-based provider, will add three raised-floor facilities in Pennsylvania, which will operate alongside their other premises in New York, Connecticut and Massachusetts.

Already serving over 1,000 customers with colocation, cloud, business continuity and managed services, Xand will now double its square footage to 400,000.

David Struwas, Xand's CEO, commented on the merger, explaining how DBS's facilities will benefit his company.

DBSi's impressive facilities, employees and customer base are a natural fit for the expansion of Xand's Northeast platform," he said.

"Both companies share a passionate, customer-centric culture and are leading innovators of data center managed services for the enterprise."

The newly formed company will offer opportunities for organizations of all sizes to deploy primary and secondary IT environments across three major metropolitan areas (New York, Boston and Philadelphia) and four states.

William Bachenberg, DBSi's current CEO, will take on an advisory role at the combined company and highlighted the benefits for both company's customers.

"The combination of DBSi and Xand will enable our customers to capitalize upon enhanced cloud, business continuity and managed services offerings, as well as additional facilities and resources to better meet their growing IT infrastructure requirements," concluded Bachenberg.

About Xand

Xand is a highly resilient facilities-based provider of data center infrastructure, colocation, cloud and managed services. For more than two decades, Xand has designed, built and managed IT infrastructure services which allow enterprises to maximize their critical application performance and availability. With data centers in New York, Connecticut and Massachusetts, Xand is able to offer colocation, cloud, enterprise hosting, managed services, business continuity, disaster recovery and wide area networking throughout the region via its best-in-class infrastructure, engineering expertise, and commitment to customer service excellence.

About DBSi

In business for over 30 years, DBSi is an innovative data center services company providing flexible, cost-effective, mission-critical technology solutions. Headquartered in Bethlehem, PA, DBSi operates three secure, high-density, highly available data centers in Bethlehem, Valley Forge, and Breinigsville, PA. The company provides comprehensive data center services including managed hosting, cloud computing, disaster recovery, and traditional colocation to hundreds of clients across numerous verticals including the healthcare and financial markets.

About ABRY Partners

Founded in 1989, ABRY is one of the most experienced media, communications, and business information services sector-focused private equity investment firms in North America. ABRY has completed over $27 billion of transactions, representing investments in more than 450 properties. The firm is currently managing over $3.5 billion of total capital and investing out of a $1.6 billion private equity fund, $750 million senior equity/mezzanine fund and a $1.2 billion senior debt fund. ABRY has extensive data center and communications investing experience through investments such as CyrusOne, Datapipe, e-Shelter, Hosted Solutions, Masergy, Sidera, Sentrum Holdings, Telx, and Q9 Networks.

Comment News
| | | | | | |
| --- | --- | --- | --- | --- | --- |
| Connect with | | or | | or | |