iPaaS Provider SnapLogic and Data Management Consultancy Intricity Partner on Helping Enterprises Adopt the Cloud and Big Data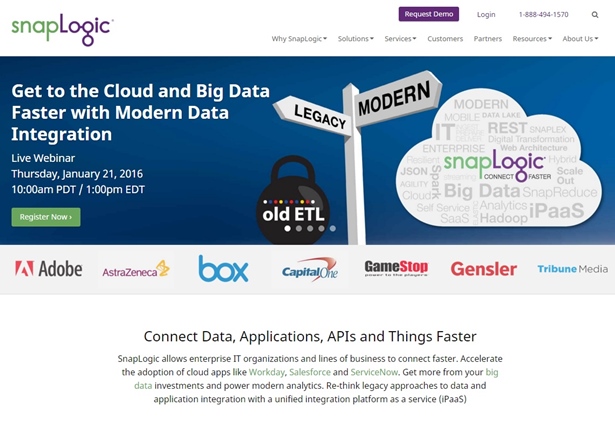 Integration Platform-as-a-Service (iPaaS) provider SnapLogic and data management consultancy Intricity have partnered on activity designed to help enterprises adopt the cloud and 'Big Data'. The companies are working on a program called "3-day Integration Modernization Assessment". Those looking to learn more about the program can attend a webinar Thursday, January 21, 2016 13:00 EDT.

SnapLogic, which has headquarters in San Mateo, California, United States, offers a range of products and services including cloud app integration, big data integration, and cloud analytics. Intricity, whose headquarters are in New York, United States, specializes in implementing data integration and CRM solutions "in a variety of industries including" such as healthcare, insurance and manufacturing. The companies' new program will enable enterprizes to transition from "legacy data and application integration technologies" to current platforms more effectively.

Participants in the program receive a "no-cost, no-obligation assessment" that determines how companies can "reduce integration time, effort and cost". The assessment also offers advice on how to receive better return on their cloud and big data investments. "The right application and data integration strategy is essential for faster and more successful enterprise cloud and big data adoption," explained SnapLogic's Senior Vice President of Field Operations, Jack Kudale. "Unfortunately, many IT organizations today are still relying on legacy technologies that were built for the rows-and-columns world, causing them to struggle with modern data requirements such as REST, JSON, and Hadoop."

Do you know of any other companies cooperating on cloud and 'Big Data' adoption? Let us know the details. Add your comments below.

Comment News
| | | | | | |
| --- | --- | --- | --- | --- | --- |
| Connect with | | or | | or | |