Memset Secures 2012 Public Cloud Product of The Year Award in London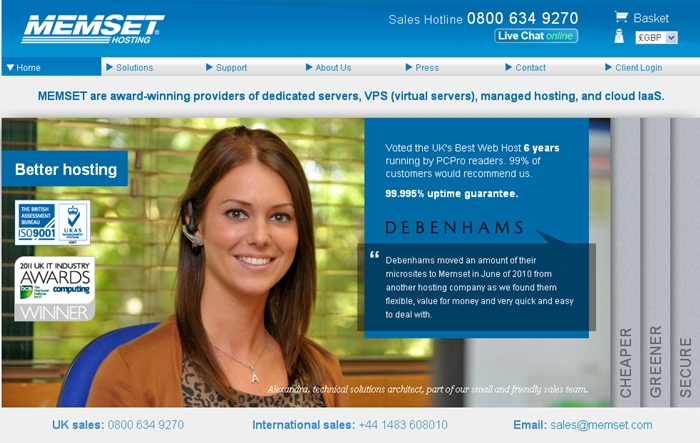 IT hosting company Memset is basking in glory following their success at the 2012 Data Centre Solution Awards, where they came close to a clean sweep of Cloud Product honours.

The UK-based firm secured the Public Cloud Product of the Year due to their Miniserver VM technology, at ceremony at the Millennium Gloucester Hotel & Conference Centre London Kensington.

Their brace of awards was almost complete, but they came up just short with a runners-up place for Private Cloud Product of the Year.

Kate Craig-Wood, Memset's MD spoke of their pride in accepting the accolade, "This award is a wonderful accolade both for our technology and our quality of service. It is a testament to the tireless work of my operations and development teams."

Following the evaluation by an expert team of judges, the overall winner was selected by the IT community. The category was open to products that deliver public cloud-based solution to organizations.

The criteria for the products were that they must "demonstrate competitive advantage and a measurable ROI to the end-users of the service and have been available in the market since 1st May 2011" which was set by organizers Angel Business Communications.

Their CEO, Bill Dunlop praised Memset for their victory in the category, saying, "We would like to congratulate Memset on winning the 2012 DCS award."

"All finalists did well in making the shortlist but Memset was the clear winner in its category Public Cloud Product of the Year."

Craig-Wood continued to explain Memset's philosophy of 'automate everything' which she believes to be the drive behind their award-winning service.

"Our philosophy of 'automate everything' combined with good use of open source software has allowed us to reach scale without the encumbrance of license fees- a saving we pass on to our customers - and without compromising quality," she said.

"At inception in 2002 our first product was renting out virtual machines on short contracts. Today we host one of the largest VM deployments in Britain as well as petabytes of storage.
Comment News
| | | | | | |
| --- | --- | --- | --- | --- | --- |
| Connect with | | or | | or | |