Automated Hosting and Infrastructure Services Company SingleHop Announces SingleHop Public Cloud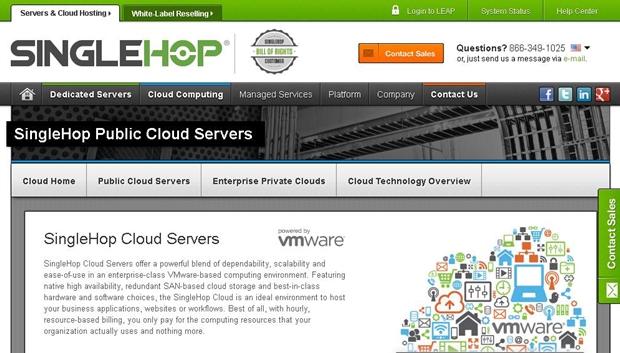 Automated hosting and infrastructure services company SingleHop, which has a customer base in 114 countries, has announced the launch of SingleHop Public Cloud. Supporting both Windows and Linux operating systems, the solution is designed to address the requirements of organizations that need reliability and user autonomy. In addition, the solution offers organizations the level of scalability needed to support their growth.

Utilizing the VMware vCloud® Suite cloud, SingleHop Public Cloud offers users the flexibility to move processing workloads from internal to virtual resources as and when required, while its SAN cloud-based storage system provides a high level of failover protection. VMware vCloud Suite's deployment capability enables users to meet their requirements by adding and removing cloud servers in around one minute.

Billing for usage is on an hourly basis, meaning organizations only pay for the resources allocated to them, while support for SingleHop's solution is provided by VMware-certified engineers that are available on a round-the-clock basis.

Services are managed through SingleHop's proprietary LEAP Control Panel, which provides mobile accessibility via PC, iPhone, iPad and Android devices allowing users to control physical and virtual resources remotely. The solution also provides alerts, notifications, and automatic updates. SingleHop Public Cloud's AutoScaling capability also allows users to set rules that adjust the number of processors and automatically increases or decreases RAM and storage as required. It also allows Web servers or application servers to balance traffic between multiple cloud servers, while a Template and Capture Functionality enables users to template a server (or group of servers) to revert to original configurations or replicate configurations through multiple virtual machines.
Comment News
| | | | | | |
| --- | --- | --- | --- | --- | --- |
| Connect with | | or | | or | |