Cloud and Data Center Infrastructure Management Software Company Egenera Launches Service for Managed Service Providers and Resellers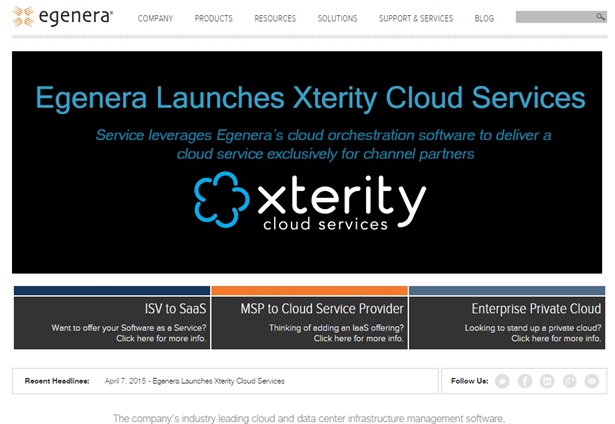 Boxborough, Massachusetts-based cloud and data center infrastructure management software company Egenera has launched a service for managed service providers and resellers. Built on Egenera Cloud Suite, the company's new Xterity cloud services are provided exclusively for its channel partners and will be hosted in Equinix data centers.

Egenera's products and services include its flagship Egenera PAN Cloud Director and PAN Manager software, which enable users to efficiently "design, deploy and manage IT services" that ensure cloud services meet the a customer's security, performance and availability requirements. The company is using its cloud orchestration software to offer Xterity on a wholesale basis.

The new option allows resellers to avoid startup and management costs and enables them to quickly and efficiently begin selling cloud services that are branded as their own. The service allows resellers to "design, price and manage complex multi-tier and multi-cloud application environments" for end users. The solution also provides the business and service management tools resellers need to sell Xterity products.

"Xterity combines the strengths of Egenera with the cloud interconnection value of Platform Equinix to provide a service that supports our expanding global channel partner program," explained Equinix's CSO, Pete Hayes. "For Equinix, this solution helps further our goal to provide interconnection value to our customers, and serve as place where businesses and cloud service providers come together to accelerate cloud adoption by connecting securely and directly within our data centers."

Do you know of any other companies strengthening reseller options? Let us know the details. Add your comments below.

Comment News
| | | | | | |
| --- | --- | --- | --- | --- | --- |
| Connect with | | or | | or | |