Cloud Hosting Company Connectria Hosting Announces Launch of Managed Services for Microsoft Azure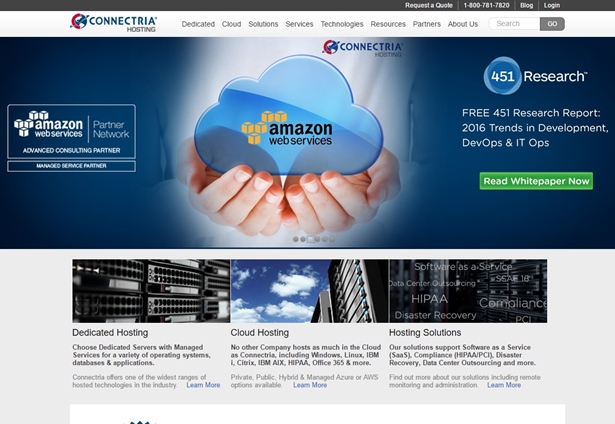 Cloud hosting company Connectria Hosting has announced the launch of managed services for Microsoft Azure. Connectria Hosting, which has headquarters in St. Louis, Missouri, United States, bills itself as offering "award-winning cloud computing, managed hosting and custom hosting solutions for more than 1,000 customers in over 30 countries worldwide". Its services include managed AWS, and HIPAA-compliant Azure alongside Office 365 options.

Connectria Hosting is a Microsoft Hosting Partner and Cloud Solution Provider (CSP) with a team of certified Azure engineers. Experts in complex multi-vendor solutions, it is also famed for its 'No Jerks Allowed' philosophy. Being 'The Jerk Free Company', Connectria Hosting's team goes "the extra mile" for customers. Its managed Azure offerings include the full spectrum of service, from setup and implementation to completion. Its services are also underpinned by ongoing comprehensive support.

"Connectria has been managing our current customers in Azure for nearly two years, and we are now offering these services to customers worldwide," explained the CEO and President of Connectria, Rich Waidmann. "As the Gold Standard in managed services for the hosting industry since 1998, we've taken our best practices and sophisticated tools and migrated them to deliver our secure Managed Azure Solution, similar to what we've done with Amazon Web Services. We believe in providing our customers options when it comes to cloud computing. Our customers can now choose among our own cloud solutions as well as those from leading public cloud providers such as Amazon and Microsoft, all backed by Connectria's expert 24/7 support."

Do you know of any other companies that are launching managed services for Microsoft Azure? Let us know the details. Add your comments below.

Comment News
| | | | | | |
| --- | --- | --- | --- | --- | --- |
| Connect with | | or | | or | |