Cloud-based ERP Solutions Provider Acumatica Wins Silver Stevie Award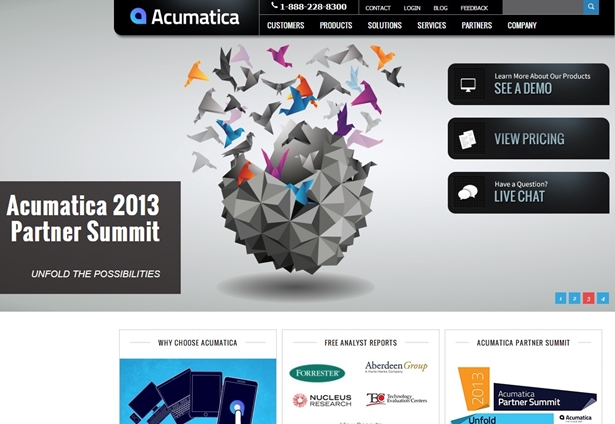 Cloud-based ERP solutions provider Acumatica has won a silver "Stevie Award" at the 10th Annual International Business Awards. Founded in 2007, the company specializes in providing ERP solutions to small- and medium-sized companies (SMBs) and is recognized as the fastest growing company in the ERP solutions arena. The company received the award in the "Best New Financial Software Product" category for taking "financial management for SMBs to the next level".

The International Business Awards recognize "outstanding performances in the workplace" by individuals and organizations around the world. Nicknamed the "Stevies", the awards come in a number of categories including the International Business Awards, The American Business Awards, the Asia-Pacific Stevie Awards, the Stevie Awards for Women in Business, and the Stevie Awards for Sales and Customer Service. This year's awards received nominations from around 50 countries and the award ceremony will take place at the W Hotel in Barcelona, Spain, on 14 October, 2013.

"We are truly honored to win this award," explained the CEO of Acumatica, Yury Larichev. "When we set out to design Acumatica, our goal was to provide SMBs with capabilities that lead the industry in terms of usability and functionality. It is gratifying that the judges at the International Business Awards, given their vast experience evaluating products within our niche, have singled us out for this special recognition. "

Acumatica 4.1, the latest iteration of the company's ERP solution, will debut at Acumatica's meeting for worldwide partners that starts 19 August, 2013 in Leesburg, Virginia, USA.

Do you know of any other companies winning awards? Let us know the details. Add your comments below.
Comment News
| | | | | | |
| --- | --- | --- | --- | --- | --- |
| Connect with | | or | | or | |