IBM Wins $1 Billion Contract to Support US Department of Interior's Migration to the Cloud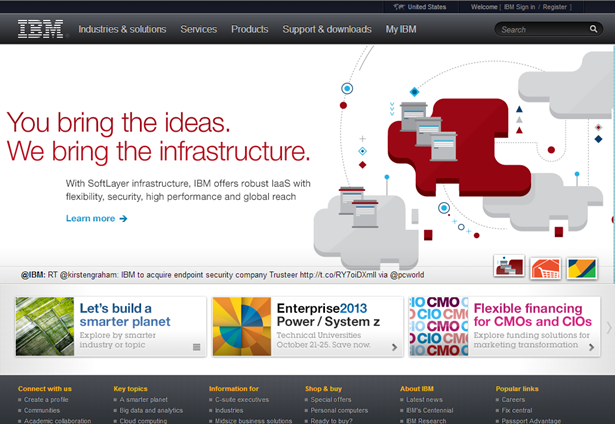 American multinational technology and consulting corporation, IBM has won a $1 billion contract to support the US Department of Interior's (DOI's) migration to the cloud. The 10-year indefinite delivery/indefinite quantity (IDIQ) contract covers the Department's use of IBM's cloud computing technologies, and its services and hosting options to facilitate its transition to a cloud-based IT infrastructure.

The US DOI oversees all aspects of management of the land that makes up the United States of America. Its responsibilities cover the country's national parks, its wildlife refuges, national conservation areas and national monuments. The DOI also oversees water supplies in 17 US states, managing dams and reservoirs. The Department is also responsible for overseeing issues related the country's Native American tribes.

IBM's solution for the DOI will give the Department access to options hosted at its IBM Federal Data Center. These include IBM's Smart Cloud for Government, the Smart Cloud for Enterprise (SCE), and IBM AIX Cloud. The Department will also benefit from IBM's vast data storage and secure file transfer background, as well as the company's experience in areas such as virtual machines, database, testing and SAP Application Hosting.

"IBM has been delivering trusted and secure cloud services to business and government clients for decades, and working with virtualization technologies for more than 40 years," explained IBM's General Manager, IBM US Federal, Anne Altman. "Our Cloud offerings are backed by a long history of successful work in hardware, software and services wrapped in world renowned security offerings, unmatched R&D, and secure supply chains. We're committed to infusing these capabilities, proven security and reliability, and leading-edge technology into our work with the US Department of the Interior over the next decade."

Do you know of any other companies involved in government contracts? Let us know the details. Add your comments below.

Comment News
| | | | | | |
| --- | --- | --- | --- | --- | --- |
| Connect with | | or | | or | |