Information Technology Services and Solutions Provider CSC and Telecommunications Giant AT&T Form Strategic Alliance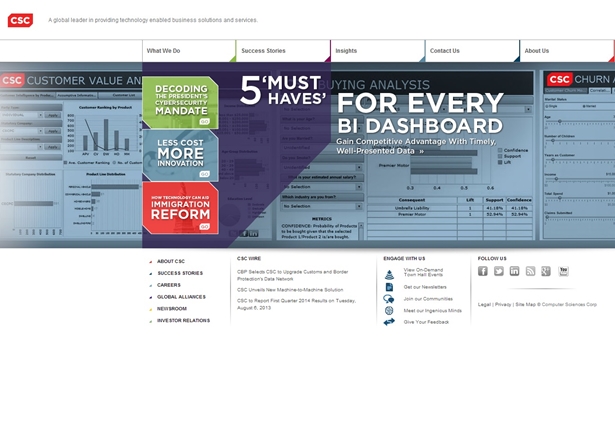 Information Technology (IT) services and solutions provider Computer Sciences Corporation (CSC) and telecommunications giant AT&T have formed a 'strategic alliance'. Together the companies aim to establish cloud solutions for businesses around the world. CSC's BizCloud TM cloud services will be combined with AT&T's network and cloud infrastructure platform to make it easier for businesses to benefit from cloud solutions.

As part of the agreement, AT&T will manage CSC's internal network and its portfolio of managed network services. With CSC's data centers and AT&T's network working in unison, the companies' customers will enjoy fast cloud solutions deployment.

AT&T Inc. is a world renowned multinational telecommunications corporation with headquarters in Dallas, Texas. It is the largest mobile telephony and fixed telephony provider in the United States and its services include broadband subscription television services. The company caters to over 107.9 million mobile customers worldwide. CSC provides a range of services including consulting, IT/business process outsourcing, applications software, systems integration, design, and application hosting services. The company has around 87,000 employees and its revenue for the 12-month period ending June 28, 2013 was $13.8 billion.

"This agreement advances our cloud market leadership position by layering our leading cloud platform on AT&T's worldwide network and infrastructure architecture, capitalizing on quickly evolving technology solutions and enabling AT&T and its clients to modernize their applications to take advantage of these solutions," explained Mike Lawrie, President and CEO of CSC. "Additionally, this agreement enhances our ability to compete globally with AT&T's expertise and scale to better meet customer demand."

Do you know of any other companies that are partnering? Let us know the details. Add your comments below.
Comment News
| | | | | | |
| --- | --- | --- | --- | --- | --- |
| Connect with | | or | | or | |