Infrastructure-as-a-Service and Cloud Marketplace and Management Solutions Provider SingleHop Launch Hosted Cloud Apps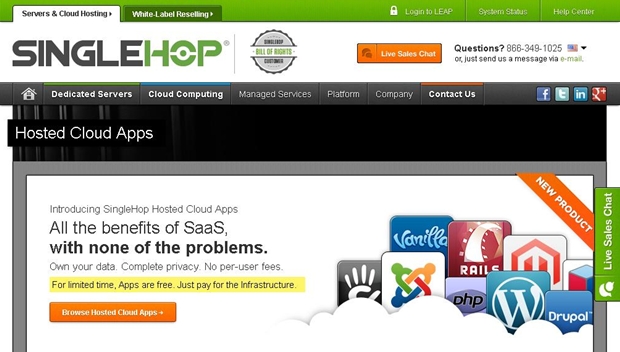 Infrastructure-as-a-Service (IaaS) and cloud marketplace and management solutions provider SingleHop have announced the launch of Hosted Cloud Apps. The new hosted application solution offers SingleHop customers simplified deployment and management of applications on virtual machines in the cloud.

Built on Standing Cloud's Marketplace Platform, Hosted Cloud Apps offers more than 100 applications alongside software such as like WordPress, SugarCRM and OpenVBX, development tools and variety of deployment options designed to run on the SingleHop infrastructure at no additional costs to users. Once deployed, automated management features enable SingleHop customers to monitor servers and applications as well as enable upgrades, back-ups and an auto-restore function. Hosted Cloud Apps also provides complete data ownership.

"Making it easy to launch and run fully configured versions of popular applications, and manage them directly through our LEAP Portal is something our customers have been asking for, and Standing Cloud made it easy for us," explained SingleHop's CEO, Zak Boca. "We were able to integrate the marketplace seamlessly into our console and infrastructure, and customize it with our own look-and-feel to provide a user experience that is point-click simple."

Just how easy is the cloud to use? Add your comments below.


Comment News
| | | | | | |
| --- | --- | --- | --- | --- | --- |
| Connect with | | or | | or | |