Mr. Akbar Hamid Joins Technology Solutions Provider Smartronix as Director of Technology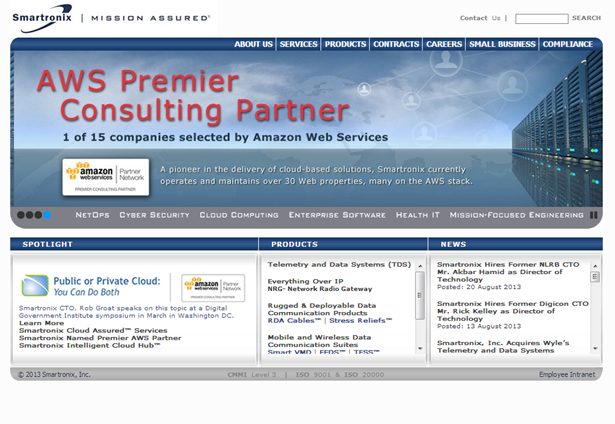 Mr. Akbar Hamid has joined technology solutions provider Smartronix as Director of Technology. Mr. Hamid's role at the company will be to oversee and grow the company's Intelligent Cloud Hub, Cloud Managed Services, and Cloud Consulting Services offerings.

While its primary focus is cloud solutions, Hollywood, Maryland-based Smartronix is involved in a range of activity including security, network operations, big data and mobile application offerings. The company is responsible for 'Treasury.gov' and 'Recovery.gov' - the United States' first Federal websites to be hosted in a public cloud environment. The company is a Microsoft Certified Gold Partner and an Amazon Web Services Premier Consulting Partner.

A 17-year industry veteran, Mr. Hamid brings a wealth of experience to Smartronix. He provided consulting services to a range of organizations (including Fortune 500 companies and Federal and Department of Defense agencies) before joining the National Labor Relations Board (NLRB) as Chief Technology Officer (CTO).

NLRB is an independent agency in the United States involved in managing elections for labor union representation and addressing unfair labor practices. Mr. Hamid was responsible for migrating the agency to cloud-based services such as Microsoft Office 365 and Amazon Web Services.

"We are very pleased to have Akbar join our team," explained Joe Gerczak, the Executive Vice President and Chief Financial Officer of Smartronix. "His experience and market insight will be essential in growing our portfolio of Cloud managed services. I am excited about the team we are building and the ability that it provides for us to continue to deliver solutions that reduce the cost of Government."

Do you know of any movers and shakers taking on new positions? Let us know the details. Leave your comments below.

Comment News
| | | | | | |
| --- | --- | --- | --- | --- | --- |
| Connect with | | or | | or | |