Public Cloud Integration Company CloudBolt Adds Cloud Management Platform to Microsoft Azure Marketplace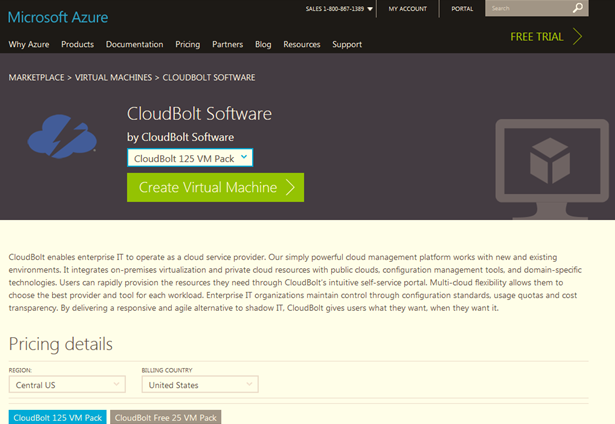 Public cloud integration company CloudBolt has announced its Cloud Management Platform is now available through the Microsoft Azure Marketplace. CloudBolt, whose headquarters are in Campbell, California, United States, specializes in integrating "on-premises virtualization and private cloud resources with public clouds, configuration management tools, and domain-specific technologies". Its CloudBolt Software solution enables customers to provision required resources in various clouds through a user-friendly interface.

CloudBolt Software meets companies growing cloud computing requirements by meeting their demand for "vendor-agnostic multi-cloud management". Administrators can use the interface to control virtualization environments, private clouds, and public clouds. This allows companies to use CloudBolt Software's interface to establish configuration standards and usage quotas, and ultimately to manage costs. The solution offers "multi-cloud flexibility" and allows administrators to determine "the best provider and tool for each workload". Being available through the Microsoft Azure Marketplace, customers deploy the solution to "manage servers, applications, and environments across a wide range of virtualization and cloud providers".

"Deploying the CloudBolt management platform in Azure makes a lot of sense for our enterprise customers," explained the CEO of CloudBolt, Jon Mittelhauser. "As they move more workloads to the cloud, they recognize the importance of matching workloads and execution venues. CloudBolt gives them the ability to do just that, and Azure provides tremendous flexibility in terms of locations and consumption."

"Microsoft's enterprise customers are increasingly looking to shift workloads between their own datacenters and the Azure cloud," explained Microsoft's Senior Director of Product Marketing, Microsoft Azure, Nicole Herskowitz. "The CloudBolt platform makes this easy for both brownfield and greenfield environments. We're pleased to welcome CloudBolt to the Azure Marketplace."

Do you know of any other solutions moving to the Microsoft Azure Marketplace? Let us know the details. Add your comments below.

Comment News
| | | | | | |
| --- | --- | --- | --- | --- | --- |
| Connect with | | or | | or | |