Website Design and Development Company Golden State Web Solutions Now an IceWarp Hosting Services Provider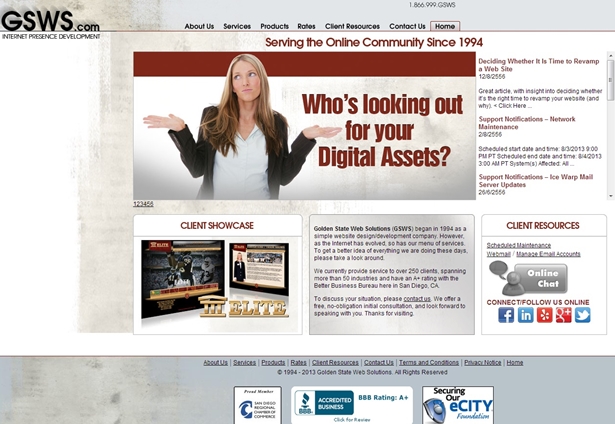 San Diego, California-based website design and development company Golden State Web Solutions (GSWS) is now an approved provider of IceWarp cloud hosting services.

Established in 1994 as a website design and development company, the company has morphed into an Internet programming and development provider that offers cloud hosting services. The company caters to around 250 customers in around 50 industrial sectors and has an A+ rating with the San Diego Better Business Bureau.

IceWarp provides a range of business class messaging solutions that compete with Microsoft Exchange. The company's highly scalable solutions allow mobile workforces to communicate through a range of platforms (email, mobile, chat, SMS, etc.) and can be utilized by companies of all sizes. The company has a network of distributors which promote its products in around 40 countries. More than 50 million people across the globe use its solutions.

"We've been an authorized reseller, support provider and customer of IceWarp's product for about 8 years, so we are well aware of everything the software offers," explained the Founder and Director of Business Development at GSWS, Dave Tuckman. "This is a great opportunity. We couldn't be more excited about the opportunities this makes available for everyone and how we can continue to provide the best service and support our clients."

Do you know of any other companies expanding their relationships? Let us know the details. Add your comments below.
Comment News
| | | | | | |
| --- | --- | --- | --- | --- | --- |
| Connect with | | or | | or | |